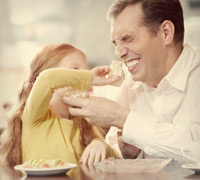 In the anticipated follow-up to Strong Fathers, Strong Daughters, Dr. Meg Meeker takes dads through 30 practical challenges to help them grow in their parenting skills. The 30-Day Challenge teaches you how to become engaged and intentional in your daughter's life as she matures from childhood into womanhood. You'll learn the 10 secrets that every dad should know and how to live them out at every stage of your relationship. This is the perfect guide for all dads with daughters.
Here's a snippet from one of Dr. Meeker's 30 challenges:
Men love differently than women. That's why you scratch your head in confusion when your daughter or wife cries and insists that you don't understand. They want you to know what they want, like and need without ever telling you. You, on the other hand, love deeply but differently.
As you work on your relationship with your daughter, you must remember that different things will make her feel loved than what make you feel loved. First, she feels loved when you pay attention to her. When she comes home from a soccer game and you ask if she wants to go have ice cream because you want to hear all about her game, she feels loved. When she goes on a date and comes home at midnight, she feels loved if you are waiting up for her. Sure, you can ask her how her time was, but the mere fact that you cared enough to make sure that she got home safely makes her feel deeply loved.
In addition to your attention, your daughter wants to know that you adore her. When you express adoration to your daughter, she realizes that you have a spot in your heart reserved for her alone. When it comes to loving your daughter, here are a few of the things that you should and shouldn't do to make her feel adored by you.
Do tell her that you love her
Don't remark on her weight—ever
Do express adoration to her
Don't remark on her looks very often
Do believe in her
Don't spare words of encouragement
Challenge: Go Shopping
This may be a stretch for you, but chances are your daughter likes to shop. This doesn't have to be an expensive outing (set rules about spending before you leave). The point of shopping is to show her that you want to do something that she likes because you want to be with her. Eat lunch at the food court or check out specials at the makeup counter. Really pay attention to what excites her and defines her style.
Choose a day to shop. Put it on the calendar, then determine a budget for the day and stick to it.