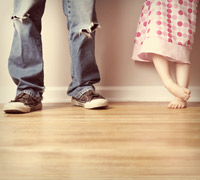 In the anticipated follow-up to Strong Fathers, Strong Daughters, Dr. Meg Meeker takes dads through 30 practical challenges to help them grow in their parenting skills. The 30-Day Challenge teaches you how to become engaged and intentional in your daughter's life as she matures from childhood into womanhood. You'll learn the 10 secrets that every dad should know and how to live them out at every stage of your relationship. This is the perfect guide for all dads with daughters.
Here's a snippet from one of Dr. Meeker's 30 challenges:
From the moment your daughter first sees you, she gives you hero status. Why? Because every little girl sees her father as larger than life. She wants you to be terrific. So regardless of how terrific you feel, your daughter thinks that you are. You are her hero simply because she wants you to be one. You don't have to earn it; you simply have to maintain your hero status.
As daughters mature, they test their fathers to see if you can handle them. Sometimes they want to know how patient you are and if you will lose your temper and topple from the pedestal. So they push your buttons to see if you are serious about sticking around for the long haul. In short, they run you through the gamut to see if you are really a hero or if you aren't.
When your first grader snubs you, don't take it personally. If your sixth grader challenges your patience by yelling at you that you don't understand her, reprimand her for yelling (in a firm but loving way, letting her know that yelling isn't allowed in your home), and then tell her that you do understand her wishes. The reason this is important is because she needs to know that you are tough enough to handle her. As she matures, she feels a sense of growing independence and will challenge boundaries that you set. Be there to stop her if she wanders too far, and reel her back in. Heroes have rules and are clear about them. And heroes always have power to make the rules stick.
Very often fathers fall into the trap of letting their tempers fly either directly at their daughters or in front of them. This is one of the surest ways that you will lose hero status. Dads should always keep their wits about them—not only because your daughter will imitate your behavior; but also because your tone of voice and actions influence how she perceives herself. You always want her perceptions to be strong.
Tanya's dad was her hero all of her life. As a middle-aged woman, she told me one of the things she admired most about her father was the way he spoke. "What really impressed me as I got older was the way he controlled his temper. Growing up, I could tell when he was mad, but I can honestly say that I never heard him yell, swear, or call anyone names. I remember as a teenager getting rip-roaring mad, and I always remember my dad and the way he controlled his anger. Many, many times, I held my tongue because I saw my dad do it. Was he my hero? Up until the day he died," she told me. "No one had the integrity and self-control my father had. No one."
Challenge: Take Your Daughter Dancing
If you are an experienced dancer, make a date with your daughter and take her dancing. If you don't know how to dance, take a few lessons and then make a date with her. As you learn and practice new steps with your daughter, consider how you are leading and how she is following. Following a hero is easy because he is honest, trustworthy and confident. How does leading your daughter in dancing equip you for leading her in life?
Schedule a few dance lessons. Plan a time and place to take your daughter dancing. You'll give her a memory she'll never forget.