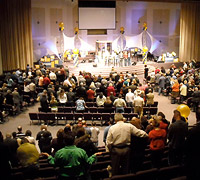 Celebration Sunday!
Members of Christ Church in Fort Worth, Texas celebrate all the wonderful things God is doing among them.
What does it look like when 800 people in one church turn their finances around at the same time? Rob Leacock, Business Administrator at Christ Church in Fort Worth, Texas will tell you. For them, it meant seeing their families pay off a combined total of one million dollars!
But the payoff of taking the congregation through Dave's church-wide stewardship plan, Momentum, has been far more than just financial at Christ Church. "Seeing the life change is fantastic!" Rob said.
"This course has blessed us far more than we could have ever imagined," said Ryan and Lisa Maxwell. "It has put us on the path to being able to retire in peace." And they're only in their twenties!
"It's made all of the work involved in Momentum so worthwhile to see the results and testimonies of the hundreds of people affected—including me!" Leacock said.
Amazing Outcomes
As part of Momentum, 800 church members committed to the 13-week Financial Peace University (FPU) class. Working together toward common goals brought an unbelievable spirit of unity to the church, which caught the leaders off guard.
Individual families have experienced dramatic transformations. Couples reported that they are communicating better than ever, no longer having money fights with their spouses, and experiencing less stress overall. Some couples say they are getting on the same page for the first time in their lives!
"My husband and I are actually coming together on our plan!" said Deborah Villicana. "I was never able to get my husband to come to any church activity other than an occasional Sunday service. This is the breakthrough that I am the most thankful for!"
Members Jack and Miranda Hunt discovered something often reported in FPU classes: "When we started doing a budget, we 'found' money at the end of every pay period!" Like John Maxwell says, when you tell your money where to go, you don't have to wonder where it all went!
A steady stream of life-changing stories kept Rob and the other leaders motivated. "It was great to see almost everyone I knew taking FPU at one time. It literally affected the whole church all in one shot!" he said.
It All Belongs to God
Christ Church has been focused on teaching people what real, biblical stewardship really looks like—how to be excellent managers of all of the resources God has entrusted to them.
"Everything belongs to God," Rob said. "If people pray but don't get their finances in order, they're not going to be ready to go when God calls. Finances are just as important as the other spiritual matters. If we don't look at it that way, we're going to be in trouble."
Overall, people at Christ Church gave more last year than they did the year before, even during the recession. "The enthusiasm and giving have gone up even in a tough time," he said.
The church hasn't pushed people to give, and yet it's been happening as a result of teaching members to manage money using biblical principles.
"This FPU class has offered fellowship, important discussions, renewed friendships and hope!" said Stacia Neeley. "I have cut up all of my credit cards, decreased spending, and made cuts on 'luxuries.' I have been able to renew a commitment to tithing. Thank you, Christ Church, for hosting a life-changing opportunity for hundreds of families!"
Reasons to Celebrate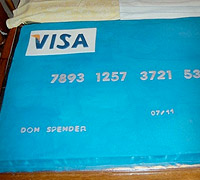 Cut It Up!
A credit card cake was created for the congregation to "cut up" as part of their Celebration Sunday.
Christ Church recently devoted a Sunday to celebrating all of the things God has been doing—complete with balloons, video testimonies, and cakes shaped like credit cards for everyone to "cut up."
One of their many reasons to celebrate is that Amanda Esparza is changing her family tree. "Never in my life have I been able to save money. I thought I 'budgeted' well because we were getting by," she said. "Now, I have taught my daughter how to earn, save, and give!"
Another victory is that Karen Carr is debt-free and loving it! "Last night I made my final payment on my debt. I am now officially debt-free!" she said. "Although the weekly lessons of Financial Peace University taught me how to bring my finances into control, the most important thing that I have learned in this process is how to trust Him—not the balance in my saving account."
The leadership team at Christ Church is confident that financial discipleship will continue to transform the culture of the church. As people realize that everything belongs to God and strive to manage all of their resources in a way that honors Him, they can really start living—and giving—like never before.
We can help you create this amazing culture in your congregation, too! Learn more about Dave Ramsey's Momentum workshop.