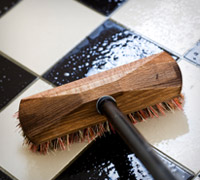 If you are in a hurry, a once-over with the vacuum, a couple of swipes with a dust cloth and a few lit candles can do the trick. But in the long run, that kind of cleaning isn't going to cut it. That's why our ancestors invented spring cleaning. They knew that every once in a while, you had to stop, roll up your sleeves, and deep clean. (That, and they had picky mothers-in-law too.)
The same holds true for your business. It needs a good spring cleaning as well. So to celebrate the new season, we're offering some advice that can help your business get in tip-top shape.
1. Dust Off Your Books
Poor accounting is one of the main reasons that most small businesses flop. They fail to keep up with it. Are your books in order, records organized and taxes up to date? If not, get them done this spring and make a vow to stay current. As the Bible says, "Be diligent to know the state of your flocks and attend to your herds." (Proverbs 27:23 NKJV) It's one of the best investments you can make in your business.
2. Refresh Your Website
You know the old saying, "The only constant in life is change"? There's no place where that's truer than the web. It's continuously evolving, and as a business owner, you have to keep up.
This spring, take some time to evaluate your website through the eyes of your customers and ask yourself these questions.
Does your site look as dated as that old Members Only jacket hanging in your closet?
Have you been using the same old photos for the last five years?
Is there any outdated material on it?
If you answered yes to any of these questions, it's time to refresh your site. Remember, you don't have to be cutting edge, but you do have to give your customers a reason to return. Quick and easy solutions include regularly updated relevant content, special discounts and new product information.
3. Clean Out the Clutter
Clutter around the office is an easy fix: take some time and get rid of it. But people? It's not so easy to fire someone. But, as Dave says, when someone doesn't belong on your team, you are doing them a huge favor to set them free. If you have to let someone go, remember the most important rule of them all—the Golden Rule. "Do to others as you have them do to you." (Luke 6:31)
At this time, more than any moment, you need to apply it. Put yourself in their shoes and act the way you'd want to be treated. "Regardless of the reason for the release, treat people right and with kindness," Dave says. "You are in control, and you still have a job. They have neither, so be kind."
Take a few moments today to look around your organization. See what needs to be "cleaned out." When you give your business a thorough going over, your profits will shine.
This article originally appeared in the EntreLeadership Advisor, Dave Ramsey's business and leadership newsletter. Sign up now to get it delivered straight to your inbox twice a month.