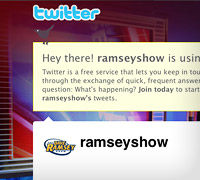 First, thank you! Why? Because you nominated The Dave Ramsey Show Twitter for a Shorty Award! The Shorty Awards honor the best people and organizations on Twitter. These unique awards are for the Twitter community, by the Twitter community.
If that wasn't enough, this week it was announced that your votes made @ramseyshow a finalist in the Shorty's finance category!
What You Can Do:
This week the winners will be chosen so if you have not voted, please go to http://shortyawards.com/ramseyshow/ to cast your vote today. You can also tweet directly from your own Twitter, but we recommend using the Shorty Award site to ensure your vote is counted.
Let's get Dave's message of hope spread throughout the Twitter-verse! Voting closes Friday at noon on February 5, 2010.
Here's two examples real tweets we found:
I vote for @ramseyshow for a Shorty Award in #finance because he has a great program and the tweets keep it current.

I vote for @ramseyshow for a Shorty Award in #finance because...his show is helping my family get out of debt!
Voting rules from the Shorty Awards site:
A tweet that does not give a reason for the nomination will not be counted.
The nomination should be relevant to the category. (Our category is Finance.)
Voting for the same person in the same category more than once just replaces the text of your original vote (So voting more than once doesn't help.)
Help us get Dave's message out to millions on Twitter. Vote today!