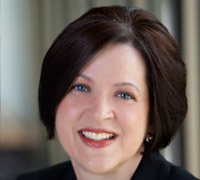 From Corporate Banking To Stewardship
What began as coordinating a couple of financial classes grew into a full-fledged stewardship ministry within seven years for Sharon Epps.
Fifteen years ago, Sharon Epps began a journey she never anticipated: a transition from the corporate banking world to full-time stewardship ministry.
She wanted to use her financial skill set to serve in the church and was asked to go through a Crown Financial class as her training. She didn't think she needed it but complied because she wanted to lead financial classes in the future.
"The very first class started off with how God owns everything and our role is to be a good manager," she said. "That blew my whole paradigm."
Before that, she had the mentality typical of churchgoers: that as long as she tithed, the other 90% was hers to do anything she wanted with.
But once her perspective changed, she developed a huge burden to teach other people. She didn't know how it would happen, but God led the way.
She spent four years in a "desert" before seeing an ad in the church bulletin about a stewardship ministry starting. "I was on their doorstep the following Monday morning, because I just knew this was it."
What began as coordinating a couple of financial classes grew into a full-fledged stewardship ministry within seven years, including training classes, planning tools, a benevolence program and even a foundation. Other churches in the area began asking how they did it. Soon, she was asked to come on board at Crown, where she went on to serve on the executive leadership team. "God just did that one," she said.
Now, she works with individual churches and has a ministry called Freestyle Living that helps to engage people in stewardship in new ways.
In The Desert
Like at most churches, Sharon's church didn't set out to start a full-blown financial ministry. It's generally more incremental than that. Sharon said most churches start with a few educational classes and start to take things more seriously if there is a financial crisis in the church. "My church was motivated by getting caught with a huge real estate and banking failure in the 80s," she said. "As they were rebuilding, they recognized that they would not be out of financial pain until their families were out of financial pain."
Churches don't have to wait for a precipitating event, but most do. "The general economy and its impact on giving have awakened many churches," she said. "God uses those types of events to help leaders see the need."
If you have a burden to start a stewardship ministry but your church is not there yet, Sharon recommends three things that she did during her desert:
Prayer: "I don't mean that lightly," she said. Six women met in her home every Saturday as a prayer group, and that was her long-term prayer request every Saturday.
Going through it in community: As all this started to unfold, her prayer group celebrated with her. They didn't necessarily have the same passion for stewardship, but they did have a passion for her to fulfill what God was calling her to. "When the church asked me to come on staff, I think they were more excited than I was!"
Asking the Lord for opportunities and for key leaders to see the need: Sharon says that could come in any number of packages, from crises to vision casting. At some point, there has to be an awakening to the need. Pray that you will be prepared for that moment.
So, if your time hasn't come yet, take heart! Hang in there and keep praying, getting educated, and talking to leaders when you see the opportunity. And hold on to your God-given passion and the belief that you will get to see lives changed for His glory!
Read Part 2 of our interview with Sharon.