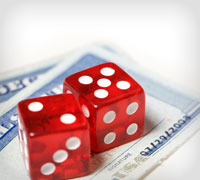 Washington recently announced that, for the first time since 1975, there will be no cost-of-living adjustment for more than 50 million Social Security recipients in 2010. This is just another sign that the system is mathematically doomed and shouldn't be counted on to fund you at retirement.
It's bad enough that there is no cost-of-living adjustment, but even if there were, we are only talking about a few dollars a month. If that changes your world, then you're broke. If you have money saved, then you don't have anything to worry about.
The average monthly payout that a Social Security recipient gets is $1,094. For someone who probably wants to spend their golden years traveling, playing with grandkids, and giving away money, that's a sad number. If you rely on Social Security for your retirement, you'll be living small. You'll be at the mercy of the government, which doesn't know how to handle money, and a program that is running out of money fast.
You don't want to be in that position. It's up to you, not the government, to make your retirement great. You need to live on less than you make, get out of debt, and keep some of your hard-earned money.
There is good news: When something this important is at stake, you'll do the best job you can to make sure it works for you. There is no limit to how well you can set yourself up financially. With discipline and self-control, you really can live like no one else when you retire.
It's time to create your own security. Right now, more than 50,000 Dave Ramsey fans are sharing tips and advice on how to avoid the Social Security mess at the new and improved MyTotalMoneyMakeover.com. Come be a part of it!