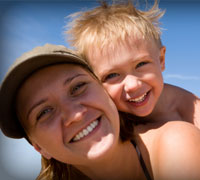 Many people are faced with unbelievable challenges while moving toward financial peace—maybe you're one of them. Some have a mountain of debt and only one income, some get laid off, and some feel like Murphy moved into their spare bedroom and won't leave! And don't forget the nonstop car repairs, broken air conditioner and trip to the emergency room thrown in there just for fun!
Whatever challenges you may face, remember that there are always Dave fans with whom you can relate. Take Teresa, for example … a single mom of five with one income. She kicked the victim mentality to the curb and is well on her way to putting her money to work.
Teresa was a 49-year-old active member of the United States Navy Reserve when she went through Financial Peace University (FPU). As a single mother of five sons, she's seen her fair share of struggles. "I raised my sons alone with little support from their father. We have dumpster dived, lived in a borrowed car, been homeless, and stayed in a shelter," she said.

Take control of your money with a FREE Ramsey+ trial.
In spite of her difficulties, Teresa managed to provide for herself and her family. She enrolled in an FPU class and began the Baby Steps. At the start of the class, Teresa had several money issues that she needed to deal with. She owed $14,000 on her car, $1,000 on an extended warranty balance, $16,000 in student loans for grad school, $700 on a credit card, and $3,000 on a personal loan from her mom. She was nearly $35,000 in debt!
As she plugged her way through the FPU class, Teresa learned the importance of an emergency fund and how to create a budget on one income. "As I followed the FPU steps, I was able to complete Baby Step 1 right away and then immediately begin Baby Step 2," she said.
During the FPU class, Teresa was able to pay off $20,000 in debt and put $3,000 in her emergency fund. "I've slowly added to my emergency fund because my comfort zone for this is important as a single woman," Teresa said.
How You Can Do It, Too
In order to do an amazing turnaround like Teresa, you must get on a plan and stick to it. Even though it's tough, a monthly budget will help you gain control of your money. When starting a budget, it's important to remember the four walls—food, shelter, transportation and clothing. Once those things are covered, establish a $1,000 emergency fund. After that, start paying off debt with gazelle intensity using the Baby Steps.
Singles often deal with "I owe it to myself" syndrome and struggle with impulse buying. Teresa learned to overcome those feelings, instead gaining a sense of empowerment once she had a working budget.
It's also important to develop an accountability relationship with someone you trust. Your accountability partner must love you enough to be brutally honest with you about money. Whenever you need to make a major purchase or discuss your budget, talk to your accountability partner first.
Financial Peace University is a 13-week course that will help anyone, regardless of age or marital status, learn how to set up a budget, become gazelle intense, develop accountability, and much more. Check it out now!