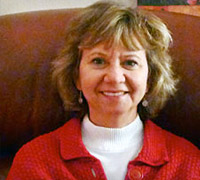 Mayvis Schwab is not your typical financial success story.
Married by the age of 20, she never worked outside the home until she was in her thirties. By then, she was a single mother of three and had just started her career in local government.
Now Mayvis is 61, debt-free including her home, and she anticipates an excellent income when she retires from full-time work in a few years. Her story is evidence that just working toward a goal will lead to success.
But family and friends didn't always agree with Mayvis' financial decisions. Fortunately, she found that "going against the winds" was her favorite part of getting out of debt and building wealth.
"I remember feeling guilty at first when I was totally debt-free," she said. "But not anymore. Going against the winds means thinking and acting independently and not succumbing to the pressures.
"Becoming debt-free brought me confidence," she added. "I know now that I can make great decisions about money. I am not a loser. Strange maybe—but not a loser."
24-Hour Turnaround
Mayvis' debt-free story began in July 2007 with her first meeting with her investing Endorsed Local Provider, Tripp Hook in Bothell, WA. She was already a Dave Ramsey listener and loved hearing people call in to proclaim they were debt-free.
"When people would call in, I could almost feel the excitement and joy," she said.
Mayvis said she wanted to believe that a debt-free life was possible for her, but she had her doubts. She'd never had credit card debt, but she had nearly $60,000 to pay on her condo. That's a big number for a single mom who had raised three kids.
"I had the mindset that only the elite or rich could ever be totally out of debt," she said. "And I was neither of those things." She felt as though it was a dream she would never be able to achieve.
But she wanted to be debt-free, so she met with Tripp to come up with a game plan that would make her dream a reality. She already had some cash saved and some investments with another firm. After Tripp looked over her accounts, he gave her the news.
"He said I could be debt-free by tomorrow," Mayvis said. "I thought I was going to faint!"
"She was quite shocked for a minute," Tripp remembered. "It was just a shift in her thinking that made it possible."
The Next Goal—Retirement
With her home paid for and just herself to support, Mayvis is able to catch up on her retirement savings by investing half of her $68,000 income. Right now, she has $300,000 in savings and investments. She'll continue working, and investing, full time for three more years. Then she plans to work part time for several years after that.
The only addition Tripp suggested for Mayvis' retirement planning is long term care insurance. Long term care insurance will help cover the costs of a nursing home or in-home nursing care if Mayvis ever needs it. It will protect the money she's been able to save.
Thanks to her pension, a rare thing these days, Mayvis will be comfortable when she retires, and she'll be able to leave an excellent inheritance for her family.
It's Never Too Late To Be Weird
Mayvis has been able to achieve her financial goals, even though they seemed far-fetched to her. With a goal and a good investing professional on your side, you can do the same. Mayvis worked with one of Dave's ELPs, and so can you. Your ELP is an expert who follows Dave's investment teachings and will help you understand your options. Get connected with your ELP today!