Business & Leadership
Simply the Best: 4 Elements for Choosing the Ultimate Vendors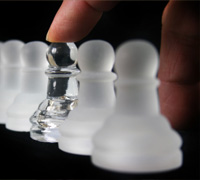 It's a fact: All businesses are not created equal. That's why it's critical to be incredibly choosey when selecting vendors for your company. Their services and products are essential to your operations. Working with the wrong ones can prohibit you from properly serving your customers.
How, then, do you know who to pick? As Dave teaches in Lesson 13 of EntreLeadership, find ones who provide the following qualities and services.
Integrity
Sure, he saved the country and definitely rocked a stovepipe hat. But Abraham Lincoln is also known for something else—integrity. As a young shopkeeper, he always did the right thing, no matter the outcome or hardship. One hundred and fifty-plus years later, he is still known for it.
Abe may not be around today, but there are plenty of vendors who are just as honest and principled. Find them by doing a bit of research:
Check references
Ask for referrals or recommendations from clients
Make sure they carry insurance
As the Bible says, "A good name is to be chosen rather than great riches, loving favor rather than silver and gold" (Proverbs 22:1).
Capacity
Capacity may be one of the most overlooked elements you need to consider when choosing a vendor. Your supplier must be able to handle the volume and quality, both within your time constraints.

Does your business have the right insurance? Connect with a local pro to learn more.
Realize, too, that you may outgrow your vendor's capacity as your business expands. Financial Peace, Dave's first book, was at first self-published. Dave ordered 1,000 copies from a local printer. He then ordered 4,000 copies. It soon grew to 7,000. When Dave placed an additional order for 7,000, his printer told Dave the order was more than he could handle. He recommended Dave speak with a print broker. The outcome? Dave found a new printer, saved money, and he and the former vendor both thrived. They remain friends to this day.
Price
Price should never be the determining factor when considering a vendor, but it does play an important role. With all other elements being equal, get the best deal you can.
Remember, though, that vendors are essential to your success. So don't negotiate them right out of business. If they are losing money to make you a happy customer, they won't be around long.
Quality
When working with a supplier, many business owners fall victim to a common malady—the too-nice syndrome. They become vendor pleasers and accept low- or poor-quality goods and services in order not to offend.
There is a cure available, though. If the quality is not there, simply say, "That's not acceptable." There is no need for dramatics. Just calmly state the facts: It's unacceptable.
Finally, always remember vendors are more like quasi-partners than business associates. Cultivate relationships with them, follow the Golden Rule—treat others like you want to be treated—and expect the same in return. In the long run, everyone will prosper.
No leader should lead without these principles. It's what your team members need to see in you, and what you want to see in them. Learn more about the EntreLeadership Live Events, and put Dave's 20 years of proven business principles to work for you.
In 20 years, Dave has grown his company to a national winning brand with more than 300 team members who have impacted millions of lives. His company has been named one of the "Best Places to Work in Nashville" four years in a row. EntreLeadership is how he's done it and how you can do it too. Get your copy of the new book now!