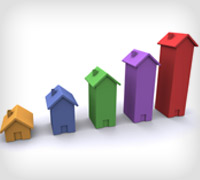 Depending on who you ask, 2012 could be the year the housing market finally, but slowly, starts climbing back. Or, we could see more of the same—foreclosures and falling home values. Either way, homebuyers and sellers have a lot to consider before they make a move this year.
Buyers: Time for a Commitment
It's been a buyer's market for several years, and 2012 won't be any different. Homes are affordable and mortgage interest rates have never been better. Once the market picks up, though, prices and rates will start to rise—slowly. So while there's no need to rush into a home purchase, there's no need to wait for prices to fall further either.
If you're planning to buy a home, it's important to understand that values will probably rise much more slowly than they did in the boom markets 10 and 20 years ago. Only buy a home if you're willing to stay there for several years. Remember, this is your home, not a short-term investment.
You'll have to comb through a lot of available homes to find one you'll want to stick with for that length of time. A real estate agent can walk with you through that process and help you negotiate a great deal when you're ready to buy.
Sellers: Time to Turn a Corner?
On average, home prices have fallen 31% since 2006. While the decline has been painful for homeowners, it means homes are now more affordable. Home ownership is now within reach of about 2 million boomerang kids and couples who delayed buying a home the last few years.
Pricing will be the key to getting your home sold in 2012. There will still be plenty of foreclosures to compete with, and buyers are looking for deals. Homeowners are not usually good at judging their home's worth, so consult an experienced real estate agent to get the pricing right.
Time to Call a Pro
Whether you're buying or selling in 2012, you can't go wrong by getting the help of a real estate professional. Dave's real estate Endorsed Local Providers (ELPs) are ready to help you make the move. Contact your ELP today!