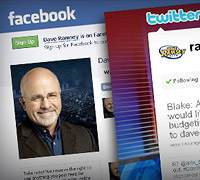 Check out the highlights of posts you may have missed in September, and be sure to follow us on Twitter and Facebook if you aren't already!
RT @chirpyKT: You know Dave has changed your life when you envy people who are debt-free rather than people who have cooler stuff than you.
78% of players are bankrupt or under money stress w/in 2 yrs of leaving NFL. Million dollar mystery: http://bit.ly/9av0i2
35% of all corporate credit cards leave the employee liable for the debt if the company goes under & if your employer doesn't pay.
Don't just say "ready, aim, aim, aim..." Nobody ever hit their target/goal without pulling the trigger! - Dave Ramsey
DROID!!! Surprise! The free ASK DAVE app for the #Android is official. Go get it! http://bit.ly/aMYZL1
The Snuggie (or what I like to call the robe you wear backwards) was #4 on the list of "Companies Thriving in the Recession." 20 million sold in 2009! OK...fess up...how many of our fans own one? (any Zebra prints out there?!)
Are You Ready For Some Football? Martha (Our Director of Guest Relations & "Martha's Place") has the perfect tailgating recipes to kick off the season! http://bit.ly/dBcnEd
Dave steps out during a TDRS break to say hi to some of the counselor trainers in town. http://twitpic.com/2p133o
Want to get a spouse on the plan? Quit cramming the "how" (Dave says) down their throat & start sharing the "why" it's beneficial. - Dave
Dave Ramsey welcomes author, blogger & speaker Jon Acuff (also known as @ProdigalJohn on Twitter) to the team.
Broke people ask, "How much down, how much a month?" Rich people ask, "How much?" - Dave Ramsey