Home Selling
Selling Your Home This Spring? Here's How to Budget For It
It's no secret that buying a home is expensive. Aspiring homebuyers save up for months, even years for their down payment and closing costs.
What is surprising is how much it can cost to sell your home. Sellers are often shocked by the amount of money they have to spend out-of-pocket just to get their home ready to sell—not to mention the thousands of dollars they'll pay at closing from the proceeds of their home sale.
If you're planning to sell your home soon, it's a good idea to set up a budget for those expenses so you know what you're facing. Take a look at a sample family, the Smiths, to see what kinds of expenses your family could face from the time you decide to put your home on the market all the way through to closing.
Out-of-Pocket, Prelisting Expenses: $4,000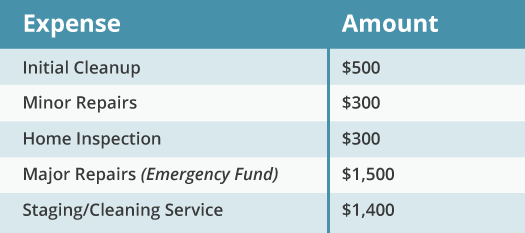 The housing market is heating up in Mr. and Mrs. Smith's area, and they're excited to get their home on the market. Their home is relatively new and in good condition, but they'll face some competition with other homes like theirs once it's officially for sale. They're willing to do some sprucing up to make an impression with prospective buyers, so they've set aside a budget of $500 for the basics: decluttering, touching up and/or repainting bold-colored rooms, freshening their landscaping, and cleaning their windows. With those tasks done, they consult their real estate agent to find out what's next on the list.

Find expert agents to help you sell your home.
Repairs: Mr. and Mrs. Smith and their two children have lived in their home for seven years. It was new when they bought it, and they haven't faced any expensive repairs while they've lived there. Like most families, they've learned to live with some of their home's minor flaws. But to prospective buyers, squeaky door hinges, dripping faucets, even burned-out light bulbs raise questions about what else might be wrong with the home. The Smiths' real estate agent suggests they start by taking care of all the minor, visible issues—loose gutters, clogged drains and drafty windows and doors. The Smiths budget $300 for these fixes since most of them are simple and inexpensive.
Prelisting Home Inspection: The Smiths are concerned their home may have unseen maintenance issues, so they've budgeted another $300 for a prelisting home inspection. They know they'll have to disclose any problems the inspection turns up to prospective buyers, but it's worth it to the Smiths to avoid any surprises once their home is under contract. They've set aside $1,500 of their emergency fund, and cross their fingers that the inspection doesn't turn up many major issues. If they do discover problems their budget can't handle, they plan to adjust the asking price of their home.
Staging: On average, professional staging services cost almost $700, according to a survey conducted by the National Association of Realtors. Fortunately, Mr. and Mrs. Smith have gotten an excellent start on their prelisting preparation and their agent says they won't need professional staging advice. Instead, she suggests they make small changes like adding fresh bedding and bathroom towels, cozy lighting and creating a clean and welcoming entrance to make their home stand out. Mr. and Mrs. Smith also decide to budget for a weekly housecleaning service to make pulling things together for a showing easier on their busy family. Total expense: $1,400 for new items and three months of weekly housekeeping services.
Costs at Closing: $13,200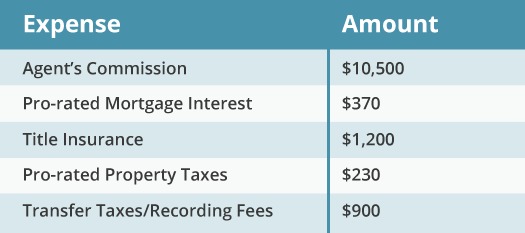 The homebuyer's closing costs get a lot of attention, but home sellers have significant closing costs as well. Traditionally, these costs come from the proceeds of the sale of the home, but the Smiths want a clear picture of what they'll come away with after closing before they list their home.
Real Estate Agent's Commission: Aside from their mortgage payoff, the real estate agent's commission is the Smiths' largest expense. They'll pay a 6% commission of the homes' sale price at closing—$10,500 if their home sells as planned for $175,000. The commission will be split between their listing agent and the buyer's agent. While it may seem expensive, the Smiths are confident they'll sell their home faster and at a better price thanks to their agent's advice. Her insight on prepping their home for the market has already increased their asking price by thousands of dollars, and the Smiths will continue to depend on their agent to attract the right buyers and negotiate a favorable sales contract once they receive an offer.
Loan Payoff Costs/Pro-Rated Interest: Mr. and Mrs. Smith know the remaining balance of their mortgage will be covered by the sale of the home, but they also want to plan for pro-rated interest costs that aren't included in that balance. They're estimating that cost to be one full month's worth of interest, $370, but they'll probably end up paying less. They'll receive an accurate closing cost disclosure called a HUD-1 statement a few days before the closing date so they'll know exactly what to expect.
Pro-Rated Real Estate Taxes: Mr. and Mrs. Smith will also be responsible for paying the real estate taxes on their home through the date the property changes hands. Again, they're planning to pay a full month's worth of property taxes, about $230, but their actual costs may be less.
Title Insurance: The Smiths had to rely on their agent's advice to budget for other closing costs like title insurance and transfer and recording fees. These expenses vary by city, county and state and also depend on the sale price of the home. The Smiths expect to pay about $1,200 for title insurance, which assures both the buyer and the lender there are no hidden lien issues or property disputes that would keep the Smiths from selling their home.
Transfer Taxes or Recording Fees: Mr. and Mrs. Smith expect the fees and taxes related to the transfer of their property to the new homeowners to come in at around $900.
Get Professional Advice to Set Your Budget
These are the typical costs to sell a home for the Smiths' market. Other markets have additional expenses like a termite inspection, or in other markets, the buyers are responsible for paying for title insurance. To set an accurate budget for your home sale, you'll need the advice of an experienced real estate professional.
If you're ready to get going on your home sale, we can put you in touch with a real estate agent who's earned Dave's recommendation for excellent service. Don't get in over your head. Contact your real estate expert and get all the information you need to start your home sale off right.