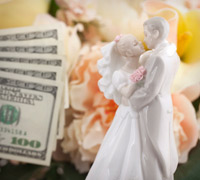 With the rising cost of weddings—Americans spend a whopping $27,000 on average—you may find yourself saying yes but thinking oh no! If so, that's a good sign; you love your sweetheart but don't want to spend the rest of your life together paying for the proof.
Take a few days to dream with your future spouse and share the exciting news with family and friends. Revel in the moment! Then, tackle the three steps below to set the foundation for your big day.
Talk about the money, honey.
It's vital that you know who's paying for what before you sign any dotted lines. This may sound like common sense, but as times have changed, so have wedding etiquette expectations. Are your parents footing the entire bill? Will each of your parents give you a set amount of money to spend? Are the two of you paying for everything on your own?
These questions must be asked as soon as possible. Approach the conversation with a gentle spirit and be ready for whatever answer is given. After all, if you're old enough to get married, you realize that a big, fancy wedding isn't everything. Work with your parents, in-laws and fiancé to decide on an actual dollar amount for the wedding and commit that you won't go over it.
Be prepared for the inevitable mini-crisis.
Once you're in agreement on a number, immediately set aside a portion for last-minute emergencies. We know, the life of your wedding will flash before your eyes the second you reduce the budget by any sizeable amount; fortunately, this brief moment of anxiety is so worth it.
While weddings are beautiful and romantic, they can also be stressful and unpredictable—America's Funniest Home Videos taught us that. Rain at an outdoor wedding, flowers dead on arrival or a vendor cancellation all require quick thinking at a time when your mind is elsewhere. Budgeting money for emergencies helps you avoid guilt and credit-card debt. Any leftover money can mean happy parents, happy honeymooning, happy housewarming or happy savings.
Establish the four walls of your wedding.
Dave says, when writing a budget, you must secure the walls—or necessities—of your financial house. Your wedding is no different. Talk with your fiancé to determine the top priorities of your big day. Ask married family and friends what mattered most to them, as well as what ended up not being a big deal; it's good to have perspective when you plan.
If your four walls are food, location, guests and the photographer, budget accordingly. Then, you can be flexible and creative with everything else. You can do it yourself, buy used, or practice the art of substitutes—a button bouquet, an iPod playlist, maybe even a short and sweet ceremony where everyone stands. This could be a great time to jump on the Pinterest bandwagon!
As crazy as it sounds, your wedding will be over in the blink of an eye. One minute you're getting ready with your bridesmaids, and the next minute you're driving away with your new husband! There's no reason for debt to follow you home.
How are you budgeting for your wedding? Leave a comment below.
Are you prepared to combine money with your spouse and work together? Setting a solid foundation in this area of your life now will reap benefits for years to come. Dave's Financial Peace University teaches you how to relate to your spouse, create a budget you can both live with, what types of insurance to get and how to invest your hard-earned cash. Hundreds of classes are available. Find one close to you now!