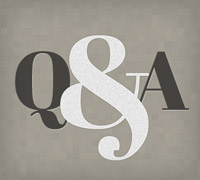 When the EntreLeadership podcast launched last year, it became an instant hit. And no segment proved to be more popular than the question-and-answer session with host Chris LoCurto and producer/moderator Chris Mefford. Since that time, our listeners have been asking for more. So Chris and Chris took time to answer another round of queries. Here's a sampling of their conversation.
I see a lot of great books out there, but many of them are aimed at managers and owners. Can you recommend some books that are suitable for the whole team? —Mark
LoCurto: You don't have to just look at business books. Platform: Get Noticed in a Noisy World from Mike Hyatt is great. It just released and takes you into the world of social media success.
Mefford: Right now, my team is reading Imagine How Creativity Works by Jonah Lehrer, and it's great too. It's not focused on business. It's just about how to become more creative.
LoCurto: Another awesome book is Love Does: Discover a Secretly Incredible Life in an Ordinary World by Bob Goff. Once again, a book doesn't have to be something specific to your business. It can be something that you want to grow your team with, so I would focus heavily on that.
Why do you think so many people are reluctant to join the social media revolution? —Charles
LoCurto: I believe the reason why people don't actually join is simple. They don't understand it. They don't know enough about it. They are worried they're going to get into something and it's really not going to be worth the time.
They are so incredibly wrong. Social media is the direction everyone is going. It is moving so fast that traditional media and traditional marketing are actually falling away.
Here's the reason. When you put up a billboard, you're touching a lot of people who might not even know who you are. They are not part of your tribe or may not have anything to do with what you are selling. And you've spent a lot of money on that billboard.
When you go the social-media route, you are building a brand. You are bringing in people who want to know more about you. They want to see behind the scenes. And you can do it for free, by the way.
Am I saying all traditional media is no good? No, not at all. You have to create a community. Study shows that 90% of people will trust peer recommendations online, while only 14% trust advertising. So you make the decision. Which one would you rather do? I'm going to move into social media.
I'm trying to transition my business into being more passive income than working income, which will allow me to begin opening additional locations. Do you have advice on hiring my first manager? —Keisha
LoCurto: It's not about hiring talent. It's not about hiring someone with a pedigree. You want somebody who is so on fire and so excited to do this job, they're like, "Dude, what else can I do to get this job? Can I drag my parents down here and have them tell you how great I am? What about my fifth-grade reading teacher? I'll do anything to be part of this."
Now some of you are probably thinking, "People don't do that." Yes, they do. You can find the right person. And that takes going through the lengthy process of discussing and understanding the individual, asking them questions, and spending more time listening than talking.
I'm struggling with how to manage the issue of associates using their iPhones, iPads or Kindles at the office during work hours. I walk through the department and see them reading, playing Words with Friends, posting messages on Facebook, and even watching movies on their iPads. How do I handle it? —Beth
LoCurto: The problem is that they're not in a culture where anyone is telling them it's a bad thing. That is what you need to create. And to create it, you have to teach it. One way is to say, "Folks, this may be acceptable at other companies because people don't care. But we have lives to change, a job to do. Anytime you're in here watching a movie, you're stealing from me." It's ridiculous, and you may have to set some examples to make sure your team understands you're serious.
You also have to share the vision. They need to know they are doing work that matters. They are changing lives somehow. They'll be so satisfied they won't feel the need to play around.
For even more of the conversation and questions answered from Chris and Chris, check out the latest EntreLeadership Podcast.