By Martha Thompson, Director of Guest Relations
What better way to top off a game-day meal than with good old-fashioned root beer chocolate cake? This recipe was featured on the Food Network, and it tastes and looks as good as it sounds! You can make it the day before the game and store in an airtight container to keep moist and fresh.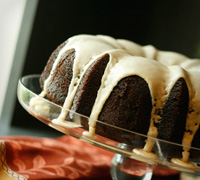 Ingredients
1 stick unsalted butter, sliced
2 cups all-purpose flour, plus more for dusting
2 1/2 cups root beer (divided)
1 cup unsweetened cocoa powder
2 ounces bittersweet chocolate, chopped
1 cup granulated sugar
1/2 cup packed dark brown sugar
1 1/4 teaspoons baking soda
1/2 teaspoon ground allspice
1 teaspoon salt, plus a pinch
3 large eggs, beaten
2 1/2 cups confectioners sugar
1 teaspoon vanilla extract
Directions
Preheat the oven to 325 F. Spray with baking spray and lightly flour a 12-cup Bundt pan; tap out the excess flour.
Heat 2 cups root beer, cocoa powder, chopped chocolate and butter in a large saucepan over medium heat until the butter melts. Add the granulated and brown sugars and whisk until dissolved. Remove from the heat and let cool completely.
Combine 2 cups flour, baking soda, allspice and 1 teaspoon salt in a bowl. Whisk the eggs into the root beer mixture, then gently fold in (do not beat with mixer) the dry ingredients (the batter will be slightly lumpy).
Pour the batter into the prepared pan and bake 50–55 minutes or until a toothpick inserted into the cake comes out clean, rotating the pan halfway through. Transfer to a cooling rack. Gently poke the cake all over with a skewer and slowly pour 1/4 cup root beer over the cake; let cool in the pan for 20 minutes, then invert the cake onto a serving plate and let cool completely.
Meanwhile, make the glaze: Whisk the remaining 1/4 cup root beer, a pinch of salt, the confectioners sugar and vanilla in a bowl until smooth. Drizzle over the cake. Enjoy!
Check out Martha's game-day feast to go along with this tasty cake.
Get more recipes and goodies by following Martha on Twitter @Marthas_Place.