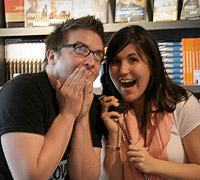 Debt-Free Rock Stars
If "normal is broke," the Dallys are as "weird" as it gets! They have a house worth $230,000 and no debt.
If you're under 30 and out of consumer debt, that is impressive. But to be completely debt-free—including the mortgage—by that age? Dave would say that makes you a "rock star!"
Nicole and Matt Dally (ages 28 and 29) teamed up and knocked out this ambitious goal. Matt plays with the band SuperChick, an incredibly talented Christian pop band. Nicole has worked a variety of jobs, so their income fluctuated between $70,000 and $100,000 while they were paying off debt.
When they bought their house, they planned to pay if off in just five years, but they were so gazelle intense that they knocked out $196,000 in just three and a half years!
If "normal is broke," the Dallys are as "weird" as it gets! They have a house worth $230,000 and no debt. They have set a course for their future that involves a whole lot of freedom.
These Nashville-area residents were so excited about their accomplishment that they had to inspire others with it. They stopped by Financial Peace Plaza to do their debt-free call live on Dave's radio show, and they had a fabulous time meeting other newly debt-free people who made the journey as well.
Want to come visit Dave's office? Find out how.
"What motivated you to do this?" Dave asked them during the call.
"We were both raised in homes where we learned that debt wasn't a good thing," Nicole said. "But when we took Financial Peace University at our church, it really motivated us."
Not many young couples are this prepared for the future! In fact, many are paying for the same mistakes their parents made. But as a second-generation debt-free couple, the Dallys had a leg up on life. That's one reason it's so important to start teaching your kids how to manage money now, whatever their age. They will thank you for it!
If they can do it, you can too! There's no better time to start your debt-free journey than now. If you've fallen off the wagon, don't beat yourself up! Just allow stories like this to encourage you and remind you that it can be done, and it's worth it! Get started now by checking out Dave's seven Baby Steps.