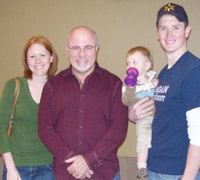 Debt-Free In Chicago!
Robert, Sarah and their son George traveled to Tennessee to celebrate their goal of becoming 100% debt-free. Dave was impressed!
What's the best way for a young family from the Chicago area to celebrate becoming completely debt-free? They take a drive to Brentwood, TN, to yell, "I'm debt free!" in the lobby of Financial Peace Plaza, of course.
Robert and Sarah spent the last five years paying off a quarter of a million dollars in debt—$100,000 was student loans and $150,000 was the mortgage on their home. Their debt-free journey began when Robert caught The Dave Ramsey Show on the radio just before he and Sarah married.
"After the wedding, and after a bit of a spending spree on new furniture, we started listening to Dave on the internet," they said. They even downloaded hours of Dave's radio show to make their own Dave CDs they listened to for motivation and entertainment on their frequent road trips to visit family.
"We were instant fans, but it took us a few months to really start adjusting our habits."
It Takes More Than A Good Income
Both Robert and Sarah are pharmacists with great income, but it still took some hard work to get their debt down to zero.
"Both of us worked a lot of extra shifts at our jobs," Sarah explained. "Robert would regularly pick up work at neighboring stores for his company and would often work 10 to 15 days in a row."
They also speak fondly of the old cars that helped them reach their debt-free goal.
"Sarah drove a '96 Ford Escort for several years and only reluctantly sold it when we needed a bigger car for our new baby," Robert said. "I still drive a 'cute' little truck with 140,000 miles on it, but I have plans to pay cash for an SUV very, very soon."
Support from family and friends helped smooth their path, as well.
"My family kidded me quite a bit about being too cheap to run the air conditioner and too cheap to let my new wife buy any clothes," Robert said. "But overall, it was only gentle chiding. Our families have been supportive of our efforts and many have started similar plans themselves."
Excited About The Future
Now that they're debt-free, Sarah is able to stay home with their son, George. Robert has plans to cut back his hours at work to give the whole family more time together.
"Our main goal now is to adjust to the idea that we can relax a little and enjoy the fruits of our labor," they said. "We have the rest of our lives to live with a financial peace unknown to most Americans, and we also have decades to build wealth and live out our dreams."
Robert and Sarah are happy to share their story as encouragement for others who are working to become debt-free, and they offer this bit of advice:
"The best advice is to focus on your long-term goals. If you know what your goals are and can keep them fresh in your mind, it helps you follow through with the sacrifices you have to make today. It really comes down to living your life with a plan and a purpose."
You too can become debt-free; it is possible for anyone! Get started now on your path to financial peace with Dave's Seven Baby Steps.