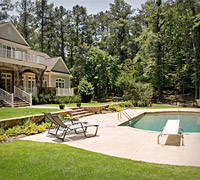 When it comes to home improvements, there are some things potential buyers just won't pay extra for. That often comes as a shock to homeowners who feel like they should get some added value for the money they've spent. Take a look at some pricey projects that will add little, if any, value to your home.
The Worst
Swimming Pool, price range: $7,000 and up
If your family will enjoy it and use it, then get a pool. But don't expect to get any of your money back when you sell. In fact, a pool can make your home harder to sell. A lot of families with small children will flat out refuse to buy a home with a pool for safety reasons. Other buyers will consider the upkeep and added energy costs a liability.
New Septic System, price range: $2,000–12,000
As a homeowner, you're probably eagerly awaiting the day you finally get to buy a shiny new septic system, right? The truth is, replacing a septic system is a nightmare we face only when we're forced to do it. It is a huge investment in your home, but prospective buyers could not care less as long as the toilets flush. You'll be lucky to recoup 10–20% of its cost.
New Roof, price range: $2,000 and up
Most potential buyers will ask about the condition of your home's roof, but as long as they are satisfied that it's in good shape, that's where their interest ends. They may be willing to pay extra for features they can enjoy every day—like a snazzy new kitchen or family room, but they won't pay more for the functional parts of your home, like a new roof.
Slightly Better Than The Worst
These home improvements fare a little better with their return on investment, but none of them will add as much value as a good family room addition or kitchen renovation.
Home office remodel – A home office might be great for you, but a potential buyer is probably thinking, "I don't need an office. I need another bedroom." You'll probably recoup about half the cost of this project.
Sunroom, bathroom and garage additions – These are pricey improvements that rarely impress buyers. The return on your investment will come mostly from the use you get out of these rooms.
Backup power generator – Most homeowners don't consider this a necessity, though that can vary from region to region. You could get back about 60% of the generator's cost when you sell.
Which real estate agents can sell your home for top dollar?
If you're ready to sell your home, contact one of Dave's real estate Endorsed Local Providers. Dave's ELPs are experts in your area and will help you sell your home for top dollar. Get in touch with your ELP today!