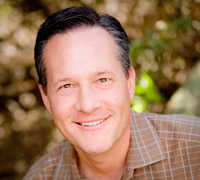 On a Quest to Reclaim Stewardship
Chris Goulard believes that at its core, stewardship is actually very simple.
When most people hear the word stewardship, they grab their wallet or purse, either to open it or get a firmer grip.
But as Chris Goulard, Pastor of Stewardship at Saddleback Church, would tell you, there's a movement going on in the church today: a movement back to true, biblical stewardship.
Over the years, many well-meaning churches have misused the term stewardship. "Many have mischaracterized it and used it interchangeably with giving or—even worse—the annual stewardship message from the pastor who's just talked about tithing," Chris said. This has got to stop.
Giving is important, but it's just one piece of the puzzle. "I would love to see the word reclaimed," he said.
Goulard's Take On Stewardship
Where do we start in reclaiming a word that's become so widely misunderstood? First, by clearly defining stewardship in our own minds. "Stewardship is foundationally understanding that we are not owners of things, but managers," Chris said.
He believes that at its core, stewardship is actually very simple. It basically boils down to three major points:
1. God owns it all.
2. We are all stewards.
3. We have a responsibility to manage it for His glory.
"If we understood these pieces, we would do things differently and everything would fall into place," Chris said.
Once we have clearly defined stewardship ourselves, it's time to communicate the message to the congregation. As you know, people resist change! That's why it's so important to be bold, clear and convincing when offering a paradigm shift.
"Don't be afraid to push people," Chris said. "Look, if you're going to call yourself a follower of Christ, what does that mean? If you're going to be a disciple, you have to get dirty and be a little bit different. Jesus said, 'Take up your cross and follow me.' We have to be willing to go against the grain." If we shy away from that truth, even though it's one people may not like to hear, they may miss the whole point of stewardship.
Chris also encourages leaders to work to help people change their heart, not just their situation, by sharing the biblical truths about stewardship. "In the church, we have a unique opportunity to talk about this in a different way and really dive into a biblical perspective on things, not just get people out of immediate pain."
Stewardship At Saddleback
The stewardship ministry at Saddleback has grown exponentially since it began just seven years ago. One way they engage such a large number of people is to offer a broad range of resources.
Every member of the congregation needs to be financially discipled, but many people don't see their own need. Yet, a topic they see as relevant can draw them in to learn what God's Word says about money. For example, someone may not see or admit a need to attend a budgeting workshop. "But if we start with giving them tools to teach their kids about money, then they'll come. Same thing with a class on estate planning. It opens the door," Chris said.
And while stewardship may not be something that's widely taught at seminary, Chris has seen that having a pastor who understands the importance of it is key. "The majority of people in the church are in the middle of the bell curve—not in extreme wealth or poverty, but middle class. You reach these people from the pulpit very strongly by a pastor who lives it out."
It's not easy to teach stewardship, but Chris believes it's essential to our growth as believers. "If you get the foundation of what stewardship is in the simplest sense—that you are a steward and not an owner—and a strong desire to follow God, then you're off to the races."