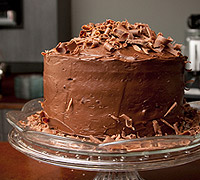 Our Director of Guest Relations, Martha Thompson, loves to bake! She makes desserts daily for the many people who come to visit us at Financial Peace Plaza. One of her most popular creations is the "More Than Enough" Chocolate Cake.* Now you can make it, too! Enjoy!
Cake Ingredients
2 cups sugar
½ cup shortening
4 eggs (at room temperature)
1 teaspoon pure vanilla extract
2 squares (1 oz. each) unsweetened chocolate
2 ½ cups all-purpose flour
1 ½ teaspoons baking soda
1 teaspoon salt
1 ½ cups of buttermilk
Icing Ingredients
½ cup butter (softened to room temperature)
1 3-oz package of cream cheese (soften to room temperature)
½ teaspoon vanilla
Dash of salt
1 ¼ cups powdered sugar
2 tablespoons of whole milk
2 squares unsweetened chocolate (1 oz. each) melted and cooled
To Prepare Cake:
Preheat oven to 325. Spray and flour two 9-inch cake pans. (For easy cake release, I always line the bottom of my pans with parchment paper, sprayed and floured.)
Cream sugar and shortening until light and fluffy. Add eggs, one at a time. Stir in vanilla. Add melted, cooled chocolate.
In a separate bowl, sift together flour, baking soda and salt.
Add dried ingredients to the wet batter, alternating with buttermilk until combined. Divide batter evenly between the pans. Bake at 325 degrees for 35-40 minutes or until a wooden toothpick inserted in the center comes out clean. Cool 10 minutes in pans, remove and cool completely.
To Prepare Icing:
Combine butter, cream cheese, vanilla and salt. Beat until light and fluffy. Add powered sugar slowly, beating on low speed. Stir in one tablespoon of milk and melted chocolate. Beat until fluffy. Add additional tablespoon of milk if needed.
To Prepare Chocolate Curls:
Make a small tray out of aluminum foil about the size of a candy bar. Melt half a bag of milk chocolate chips in microwave for one minute. Stir and pour into your tray and chill in fridge until cooled and hardened.
Peel off foil and hold bar gently in your hands to slightly soften. Take a carrot peeler and run down the length of your bar to make a curl. Then drop onto the top of your cake. Repeat until your cake is topped with a pile of chocolate curls.
Frost cake and top with chocolate curls. Enjoy!
*This is not Martha's original recipe. She has been making these for years, but doesn't know where the recipe originated.