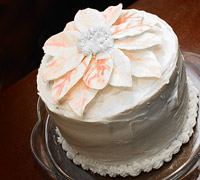 Our Director of Guest Relations, Martha Thompson, loves to bake.
One of Martha's favorite cakes to bake for special occasions is a festive Red Velvet Cake with a beautiful white chocolate poinsettia decoration.* Now you can make it, too! Enjoy!
Cake
2 1/2 cups all-purpose flour
1 cup buttermilk
1 1/2 cups sugar
2 cups vegetable oil
1 teaspoon baking soda
1 1/2 teaspoons salt
1 1/2 teaspoons apple cider vinegar
2 teaspoons cocoa
1 oz. red food coloring
3 large eggs at room temperature
1 teaspoon pure vanilla extract
Preheat oven to 350 degrees. Prepare three 9-inch round cake pans by measuring and cutting three circles of wax paper for bottom of pans. Spray bottom and sides of pans with cooking spray, line each with wax paper and spray again. Dust bottom and sides of pans lightly with flour.
In a large bowl, beat together sugar and oil until creamy. Add eggs one at a time and beat well. Add vinegar, food coloring, flour, cocoa, salt and soda. Mix well.
Add vanilla and buttermilk and mix until batter is well-blended. Do not overbeat.
Divide batter equally between three pans and bake at 350 for 30 minutes. Check by inserting toothpick in center of cake. If toothpick is wet, continue baking two minutes at a time. Do not overbake.
Cream Cheese Icing Ingredients
2 sticks of butter at room temperature
2 – 8 oz. packages of cream cheese at room temperature
2 teaspoons pure vanilla extract
2 – 1 lb. boxes of powdered sugar
Cream first three ingredients together. Mix in the powdered sugar slowly until fully incorporated. Chill icing before spreading on cake. (This is more than enough icing, so don't be stingy on icing between layers. You will also have plenty to pipe the bottom of the cake as shown in the picture.)
Store your finished cake in the refrigerator until ready to serve.
Optional: White Chocolate Poinsettia
You will wow guests when you present this cake topping at a holiday gathering. Once you master the poinsettia, then you have a great gift or a way to make a little extra money by selling this cake during the holidays next year! Don't be intimidated, because it's actually not that hard. You will need:
4 cups white chocolate chips
Red decorating gel
20 lemon or camellia leaves washed and dried. If you are not in an area where these grow, you can get them from a florist. You will not need all 20 for one cake, but making this many will allow you to select the prettiest ones and allow for those that may break when peeling.
Line two baking sheets with wax paper; set aside. Melt one cup of white chocolate chips in the microwave for one minute and stir until smooth. Moving quickly, place 3–4 tablespoons of melted white chocolate in a small bowl, and add a tiny amount of food coloring on the end of a tooth pick, stirring until tinted pale pink.
Paint strokes of pink chocolate down the center back of one leaf, feathering outward while following veins of leaf. Immediately spread a 1/8 inch layer of white chocolate over entire back of leaf, gently spreading outward from center to marbleize color. Place leaf on prepared baking sheet, chocolate side up; repeat with remaining leaves. When you run out of chocolate, melt another cup and begin again. Freeze leaves for 20 minutes. Remove from freezer. Grasp each leaf at stem end and gently peel leaf from chocolate. Store chocolate leaves in freezer while assembling cake. Leaves can be made several days ahead. Handle carefully, because they are thin and will melt quickly from the heat of your hands.
Layer leaves on the top of your cake to resemble a poinsettia. Dab drops of icing to hold leaves in place as you are layering them. Pipe stars of icing in center of leaves, and you have a beautiful pink poinsettia!
*This is not Martha's original recipe. She has been making this cake for years, but doesn't know where the recipe originated.
Get more recipes and goodies by following Martha on Twitter @Marthas_Place.