Getting out of Debt
Rewrite Your Story with the New FPU!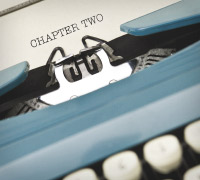 Like any good "choose your own adventure" book, life offers pivotal moments when you alone decide the outcome. This is one of those moments—you pick the next chapter. Faced with your current situation, do you:
Continue spending willy-nilly, following debt down into a dark hole of disappointment?
Get a grip on your money, hold your head just above water, and try your best to swim?
Sign up for the all-new Financial Peace University (FPU) and learn to live and give like never before?
Wait! We know this is a tough call, so we've provided a little research for you below. (Full disclosure: We may be biased toward one particular choice.)
The journey is engaging and—dare we say—fun!
The brand-new version of FPU is better than ever before! Dave uses humor, biblical wisdom and practical advice to teach the steps for finding true financial peace. He also invites three guest speakers to join him: daughter Rachel Cruze, author Jon Acuff, and financial coach Chris Hogan.
In just nine weeks, they cover how to save an emergency fund, get out of debt, save for retirement and college, pay off the house, build wealth, and give. It's intense, yes, but incredibly motivating! Dave simplifies the process by taking you through seven measureable Baby Steps. Once you get moving on the first, you're bound to pick up the pace!

Get a FREE customized plan for your money in 3 minutes!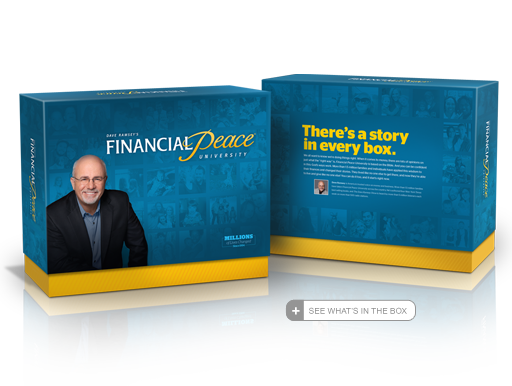 Tools are a wonderful thing!
We've also fully redesigned the workbook and website to make sure you have every resource possible at your disposal. We want you to win with money!
You'll be able to budget with confidence using forms that are not only easy on the eyes but also include basic directions and friendly tips for success. In fact, you'll practice using these new forms in class—that way you can tackle what might be a new process for you in the comfort of a group setting instead of facing them alone at home.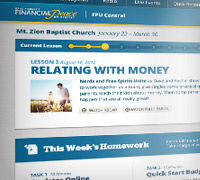 You'll also see content specific to each week's lesson online in the members-only site. There, you can read relevant articles, review your weekly assignment, chat with classmates, and more!
Your story will change!
More than 1.5 million families have seen their lives radically changed through FPU. On average, families that complete the course pay off $5,300 in debt and save $2,700 in just the first 90 days. Not only that, but members who continue doing the budget as Dave teaches are able to pay off 23% more debt and save 21% more money on average than those who don't. That's huge!
Can you imagine writing the last check on your debts? What would that feel like? How would you like to financially bless your family, your church and many others because you handled money God's ways?
Are you ready to turn the page on your next big adventure?
For options one and two, simply keep moving along as-is. For option three, find a class in your area and brace yourself—this story's about to take a surprising turn!