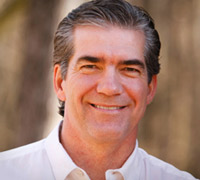 How would you describe an incredibly successful leader?
For Joel Manby, president and CEO of Herschend Family Entertainment Corporation, it's all about love. In fact, he's so passionate about the topic, he recently wrote a book about it: Love Works: Seven Timeless Principles for Effective Leaders.
Last week, the leader of the largest family-owned theme park corporation in America spoke with EntreLeadership Podcast host Chris LoCurto about how leading with love can make a company great. Here's a sampling of their conversation.
LoCurto: What is the one lesson you want your readers to take away from your book?
Manby: Ultimately, I want them to know that love is the most effective leadership principle out there. Most of us think of love as an emotion, the kind Hollywood teaches us. But that's not the kind of love I'm talking about. There are actually four different loves that the Greeks define, and they have nothing to do with how you feel about people. It's treating them with respect and dignity in every aspect. It brings out the best in people, but it's also very accountable.
I have a 30-year business career, including 20 years' experience in the auto industry. I helped start Saturn Corporation. I've seen a lot of the good, the bad and the ugly, and I can say definitively that the companies that practice these principles have the most effective results. Our company outperforms every other regional theme park company in America, including Six Flags or Cedar Fair Entertainment.
LoCurto: Is it okay to get close to your team members?
Manby: Absolutely. I don't hang out socially with my team members, but I do have a healthy interactive relationship with them. Am I trying to be unselfish? Yes. Am I truthful and honest about their performance? Yes. And do I try to handle difficult situations with great patience? Yes. A healthy human relationship brings out the best in people.
It also creates outstanding results and incredibly low turnover. We have had double-digit returns for decades. We've grown nine out of 10 years in profit through this terrible recession. Leading with love creates a very healthy business.
LoCurto: How can leading with love redefine the corporate culture as we know it?
Manby: At General Motors, everything was just about the bottom line. Unfortunately, most people don't work just for the bottom line. What I found at Herschend Entertainment is that when you practice the seven words of love—patient, kind, trusting, unselfish, truthful, forgiving and dedicated—it transforms the workplace. Your team is highly motivated and highly engaged. There's just a whole different energy level and passion behind what they're doing.
Our mission, ultimately, is to create memories worth repeating for our guests. And everybody seems to be completely rallied around that principle. It just makes for a lot more fun. If more companies were practicing these principles, we would have a lot better reputation of businesses in this country.
LoCurto: Has leading with love helped you recruit new team members?
Manby: I've had some incredible heartwarming stories of people who have taken pay cuts to work for us just because of our culture. I'm talking about people who went from making $15 an hour to $10 or $12. That's serious money. I'm not claiming that everybody will take a pay cut to come work with us. It's just very important to have a strong culture that people want to work for, because they all have choices.
For even more of the conversation with Joel and Chris, check out the latest EntreLeadership Podcast, which also includes a lesson from Dave.