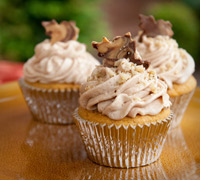 By Martha Thompson, Director of Guest Relations
The south seems to breathe a collective sigh of relief when fall rolls around. It's our reward for surviving steamy summer days. Without a doubt, fall is my favorite time of year! Cooler weather, the onset of football season, farmer's markets filled with fall's bounty, and the wonderful aromas of apple and pumpkin desserts pouring out of the oven!
When asked to share some of my favorite autumn desserts, I picked recipes perfect for tailgating, fall bake sales, hayrides, church potlucks, and celebrating crisp fall evenings with family and friends.
Yes, there is a way to eat pumpkin other than pumpkin pie! These delicious cupcakes, spiced with cinnamon, ginger and pumpkin spice and topped with cinnamon cream cheese icing, are just right for a crisp autumn day.
Makes 24 cupcakes
Ingredients
3/4 cup butter, softened
2 1/2 cups sugar
3 eggs
15-ounce can solid-pack pumpkin
2 1/3 cups all-purpose flour
1 tablespoon pumpkin pie spice
1 teaspoon baking powder
1 teaspoon ground cinnamon
3/4 teaspoon salt
1/2 teaspoon baking soda
1/2 teaspoon ground ginger
1 cup buttermilk
Frosting
8-ounce package cream cheese, softened
1/2 cup butter, softened
4 cups confectioners' sugar
1 teaspoon vanilla extract
2 teaspoons ground cinnamon
Directions
Preheat oven to 350 F. Line 24 muffin cups with paper liners.
In a large bowl, cream butter and sugar until light and fluffy. Add eggs, one at a time, beating well after each addition. Add pumpkin. Combine the flour, pie spice, baking powder, cinnamon, salt, baking soda and ginger in a separate bowl; add to the creamed mixture alternately with buttermilk, beating well after each addition.
Fill paper-lined muffin cups three-fourths full. Bake for 20–25 minutes or until a toothpick inserted in the center comes out clean. Cool for 10 minutes before removing from pans to wire racks to cool completely.
For frosting, in a large bowl, beat cream cheese and butter until fluffy. Add the confectioners' sugar, vanilla and cinnamon; beat until smooth. Frost cupcakes. Refrigerate leftovers.
Note: I always enjoy giving my desserts an extra touch. For these cupcakes, I made chocolate leaves. Simply melt a cup of semisweet chocolate chips and a ½ cup of white chocolate chips in two separate microwave-safe dishes. Pour the dark chocolate about a ¼ inch thick on a sheet of aluminum foil. Spoon dollops of white chocolate on top of dark chocolate. Swirl white chocolate with a knife to give a marble effect. Chill chocolate in the fridge until it sets (about 10 minutes). Run hot water over a leaf-shaped mini-cookie cutter to heat. Gently cut out leaves and top your cupcakes. Sprinkle with crushed walnuts.
Happy fall, y'all!