Home is more than just an address. It's where life happens—tears are shed, joys are celebrated, and love is shared—all under one roof.
It's also a big chunk of your budget.
But when you find a home you really love, it can be easy to let emotion cloud your vision. Before you know it, you're paying out the nose for all that warm and fuzzy. Of course, it doesn't help that most mortgage options hide long-term costs behind low monthly payments.
That's why it pays to do your homework and have all your mortgage questions answered.
Let's compare popular mortgage loan options that make it easy to bite off more than you can chew—and why the 15-year fixed-rate mortgage is the only one we recommend. In each scenario, we've assumed a $200,000 home purchase at the current interest rate for each mortgage option.
The 30-Year ARM (Adjustable Rate Mortgage)
Adjustable rate mortgages (ARMs) lure you in with a low initial interest rate—and, consequently, a low monthly payment—for the first few years.
But the key word here is "adjustable." You can't count on your interest rate to stay the same for the life of your loan. After your introductory period expires, your interest rate moves with the market.
With interest rates super low right now, you can bet your rate would only go up. (And what bank is going to lower your rate anyway?) By the time your 30-year term is up, you could be paying hundreds more each month. Do you really want to leave your budget's biggest category up to chance?
What's the Cost?
Let's say you come to the table with a minimum down payment of 5% and finance the remaining $190,000 with a 5/1 ARM loan at an initial interest rate of 3.25%.
You'd start out paying $827 a month for principal and interest. After the first five years, we'll say the rate bumps up by just a quarter percent each year and caps off at 8.25%. By the last year, your payment is up to $1,155, and you'll pay $174,785 in interest over the life of the loan.
Since you put less than 20% down, you'll also pay private mortgage insurance (PMI). PMI is calculated annually as a percentage of your original mortgage amount based on your credit rating and down payment. Assuming your PMI is calculated at 0.5% annually, that's an extra $79 added on to your mortgage payment for a little over eight years. At that point, you'll have 22% equity in your home, and your lender should automatically cancel your PMI.

The 30-Year FHA (Federal Housing Administration)
FHA mortgages are backed by the government, which means the government insures the bank so it won't lose its money if you don't make your payments. They typically attract buyers who can't front the 5% down payment most conventional mortgages require.
Right now, you can buy a home with an FHA mortgage for as little as 3.5% down. That's a problem. Why? Because a low down payment is an easy way to get in over your head.
And that's not the only downside. With an FHA loan, you pay an up-front mortgage insurance premium (MIP)—which is 1.75% of the base loan amount—at closing. MIP is also tacked onto your monthly payment, and if you put down less than 10%, it's for the life of your loan.
What's the Cost?
With a minimum down payment of just 3.5% on a 30-year loan at 3.75% interest, your monthly payment would total $1,058. That includes $894 for principal and interest, plus $164 for MIP each month. You'd also pay $3,378 in up-front MIP at closing and $128,774 in interest over the life of the loan.

The 30-Year VA (Veterans Administration)
Backed by the Department of Veterans Affairs, the VA loan makes it easier for our country's military veterans to purchase a home by eliminating down payment or mortgage insurance requirements. That's a good thing, right?
Wrong! Talk about an easy way to get in over your head. If you can't put any money down on the biggest purchase of your life, you're not ready to buy a home!
VA loans also charge a funding fee to make up for the fact that no down payment or mortgage insurance is required. This fee can range anywhere from 1.5–3.3% of your loan depending on your military status and down payment, and whether it's your first time financing a home with a VA loan. That's anywhere from $3,000–6,600 for a $200,000 loan.
What's the Cost?
Let's say you put no money down on a 30-year mortgage at 3.5% interest. We'll assume your VA funding fee is $4,300 for this example, and you finance it into your loan since you don't have any extra cash on hand. That means your monthly payment would be $917, and your total interest paid would come to $125,963.

The 30-Year Conventional Fixed
A 30-year conventional fixed-rate mortgage is certainly the most popular of the bunch. So why is it a bad option? Because it feeds into the idea that you should base major financial decisions on how much they will cost you per month. That's flawed thinking. If you want to get ahead with your money, you've got to take the total cost into consideration.
It's true. A 30-year mortgage will cost you less per month. But that cheap monthly payment costs you a lot more in the long run. That's because you pay a higher interest rate—and stay in debt longer—compared to a 15-year fixed-rate mortgage.
What's the Cost?
If you put 5% down and finance the rest with a 30-year fixed-rate mortgage at 3.875% interest, you'll pay $893 a month in principal and interest, plus PMI, which we'll calculate at 0.5% (or $79/month) for this example. Your total interest paid would come to $131,642 by the time your mortgage is done, and your PMI would automatically drop off after a little over eight-and-a-half years.

Here's What We Recommend
Of course, the best way to buy a home is to pay the full purchase price with cash. But if that's not in the cards, go for a 15-year fixed-rate mortgage with a 20% down payment. A 10% down payment is okay too, but 20% enables you to avoid PMI.
So what would a $200,000 home cost if you followed these parameters? If you put 20% down on a 15-year fixed-rate mortgage at 3.125% interest, your monthly payment would be $1,115, and you'd pay $40,624 in total interest. That saves you anywhere between $85,000 and $134,000 in interest charges alone! Imagine what you could accomplish with that kind of money in your pocket!

A Final Side-by-Side Comparison
If we stack these five mortgage options up against each other, it's easy to see where the costs add up. For instance, the 30-year 5/1 ARM accrues the most interest of the bunch, while the 30-year FHA packs the highest fees.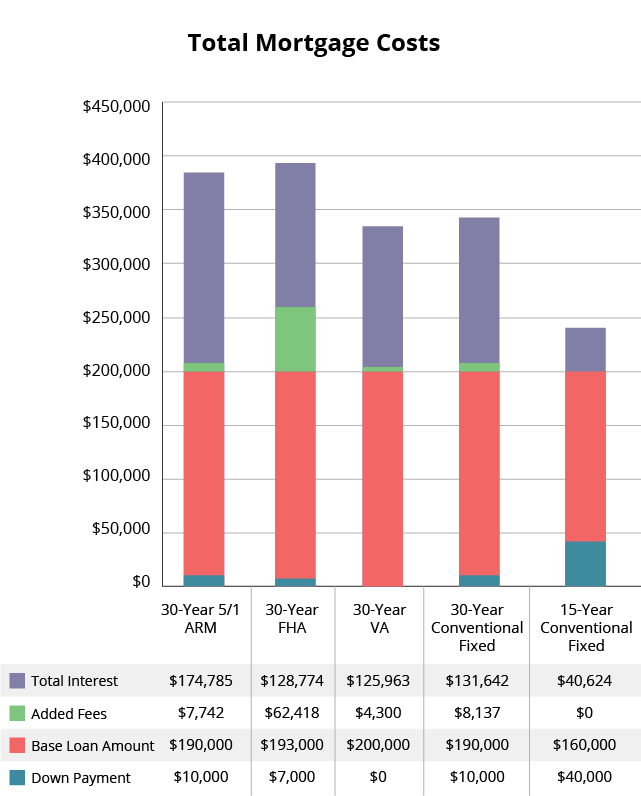 How to Stay On Budget
Remember, it's best to keep your monthly mortgage payment to 25% or less of your take-home pay. That way you have plenty left each month to reach other money goals. It might mean you have to look for a less expensive home, but it's worth it to know you're not getting in over your head.
A great way to start your journey to home ownership is our mortgage calculator to figure out how much house you can afford.
Worried you won't find a home you love in your price range? Good real estate agents can help you find a home that fits your budget, and they won't pressure you into creative financing to make a bigger sale.
If you're in the market for a home but you don't know where to start, we can connect you with an agent in your area who's earned Dave's recommendation for trustworthy advice and excellent service. They will show you how to buy a house and stay on budget.