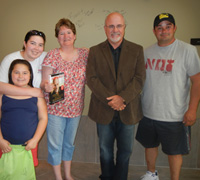 The Baby Steps Really Work!
The Gilbert family stopped by Dave's office to personally tell him how the Financial Peace principles are changing their lives.
On May 22, 2011, the Gilbert family's lives changed forever.
As residents of Joplin, Missouri, Eric and Amy and their two daughters lived through the string of tornados that ripped through the town. Their house was demolished, but that hasn't dampened their spirit of hope.
Shortly afterward, the family was in Nashville and stopped by Dave's office to personally tell him how the Financial Peace principles are changing their lives. They have bounced back from this horrible experience incredibly fast and are able to help their neighbors rebuild their lives and provide them life-changing tools.
Here are some things they wanted to share with fellow Financial Peace fans:
You prepared as much as you could for the unfortunate situation of a devastating tornado. How has doing so allowed you to help others during this difficult time?
When people would ask us what we needed, honestly, we were good. Because our family was okay and knowing that we had an emergency fund in place, our needs were not as severe as others. We used what we could and contacted other families that might be able to use what we couldn't and passed it on. We have an amazing support system of family and friends and that has afforded us the ability to have them help others who might need more assistance.
We can't emphasize enough to people we know or meet that three years ago, our lives changed. And on May 22, 2011, our lives changed forever again, but we were prepared and being prepared made this situation a lot easier.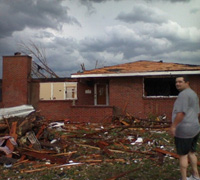 The House After The Tornado
"We were prepared and being prepared made this situation a lot easier," Amy said.
What started you on this road to Financial Peace three years ago?
We were introduced to Dave Ramsey from some great friends who were taking Financial Peace University at their church. She loaned me The Total Money Makeover, I read the book and got excited. My husband was going on a business trip shortly thereafter, and I stuck the book in his carry-on, then texted him that he needed to read it on his flight. He isn't a big book reader, but he said he couldn't put it down. When he got back home, we immediately started our emergency fund and envelopes, and the rest is history!
What were some of the practical steps you've taken over the past three years that have eased your money concerns now?
First, creating a budget and sticking to it. Then having an emergency fund and asking ourselves if we could afford to replace it…and that led to getting plenty of insurance for our house, personal belongings and cars. Learning to live within our means and not spending every dollar we make. Learning that it was okay to save for something you wanted and not have the mentality that, "Oh, I get paid next week. I'll just put it on a credit card now and pay for it later," because in reality, we were not disciplined enough to do that by the time that next week rolled around. Something else always came up that needed to be taken care of.
What have your daughters thought about the Baby Step lifestyle?
At first, they weren't very keen on the subject. With such an age difference (daughters are 19 and 8), we had to break it down for them in their own ways. Their needs were different, but they both grasped the idea quickly. However, Lexi being so young, wasn't a fan of Dave in the beginning. She got tired of listening to Dave every afternoon on the ride home from school and when she wanted something, always hearing, "It is not in the budget!" Get tools for teaching your kids about money.
What are some of the biggest lessons you have learned so far?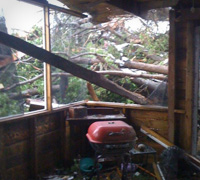 Deck Demolished
This is just a glimpse of the damage the Joplin tornado had on the Gilbert family house.
Our faith and family are strong. We know firsthand the importance of being prepared. All of our sacrifices have paid off. It is so important to have an emergency fund in place and to be responsible not only for ourselves but for our girls. If something like this were to ever happen again, we will pick ourselves up with our faith and what we have learned from the past. We were a tight-knit family before, but this has brought us even closer and more in tune with what is important.
We were fortunate to have survived this F5 tornado, and we want to spread the word about Dave and his teachings, how it changed our lives and made us able to rebound so quickly after such a horrific experience. We believe there is hope—hope that something good is to come out of this tragic situation. We thank God every day for this opportunity! We are good, our community will rebuild, and we will all be better than we were before!
Take it from the Gilbert family—it's worth all the sacrifices to have peace in the midst of the storm.
This can be you! Check out Dave's Seven Baby Steps to get started on your journey to freedom now!