Fourteen years ago, Lorena Mejia was a single mom with two young kids, and she was working three jobs a day to pay a "terrible mortgage" she could barely afford. Today, she's the proud owner of a four-bedroom home she paid cash for.
Her secret? Hard work and sticking to a goal. Here's a glimpse at her remarkable journey.
A Road Paved With Hard Work and Determination
To say Lorena's first few years as a single mom were tough would be an understatement. A typical day started at 2 a.m. delivering newspapers and included back-to-back shifts as a cashier at a gas station and a fast-food restaurant.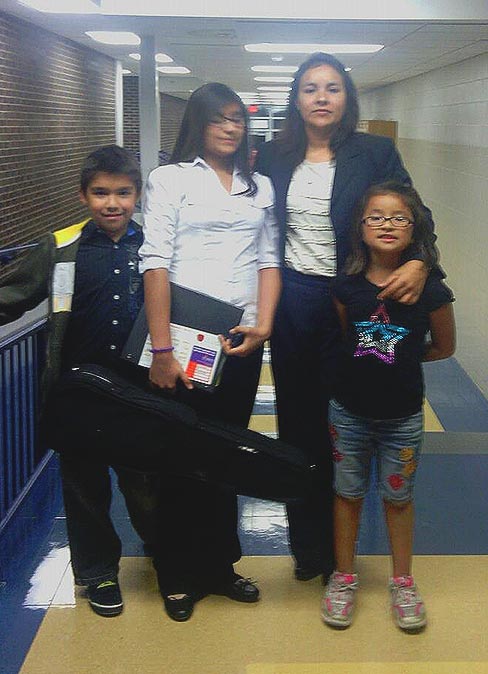 "Every day was a 12-hour day. On a bad day, it would be 16 hours," Lorena says. "It was all-day work. I would sleep probably four or five hours a day."
To make ends meet, Lorena rented out two rooms in her home, and her mom came to live with her for a year to help with the kids.
Her household income got a boost in 2002 when the fast-food restaurant promoted her to a salaried manager position and then again in 2003 when her husband Francisco joined the family. That enabled her to pay a babysitter to watch the kids after her mom left, but there still never seemed to be enough money to make it to the end of the month.
"I was always running short because I wasn't making enough money to pay the bills. We were behind on the mortgage a few times—on the car almost every month—for about a year and a half," she says. "We would go to the food pantry to get bread and pasta. The Salvation Army provided the kids' clothes and toys for Christmas."
When the going got tough, Lorena gave it everything she had. "I didn't think about it," she says. "I just needed to provide for my kids."
Her hard work paid off. In 2003, the fast-food restaurant promoted her to General Manager. Two years later, she was offered a position as Area Supervisor, nearly doubling her income. In just five years, she had worked her way up from making $7.50 an hour to more than $40,000 a year!
Life wasn't extravagant by any stretch of the imagination, but they could pay their bills and start saving for the future.
Of course, it didn't come without sacrifice. With three kids now, Lorena kept her family's eating-out budget to $25 each month and gave up extras like cable, Internet and movies. The kids wore hand-me-downs from family and friends. Lorena only owned one party dress and a couple of extra outfits aside from her work uniform.
A Dream Is Born
Lorena eventually realized, if she ever wanted to get ahead, she needed to cut her housing costs down to size. Her home was in bad shape, and she couldn't afford to pay someone else to do the repairs. So she and Francisco rolled up their sleeves and got to work on it.
"We lived in a construction zone for three years trying to get the home ready to sell," Lorena says. To save money, they hunted down bargains at garage sales. "We remodeled the kitchen with $1,500 and tons of sweat."
Their hard work paid off once again. She sold her home for $112,000 in 2007, after purchasing it for just $86,000 seven years earlier. Over the next six years, Lorena and Francisco bought and sold a series of homes. The formula was simple: Buy it cheap, fix it up, and bank the profit.
"We look to be comfortable, but at the same time, we look at it as an investment because of our first experience," Lorena says. "Our goal in the next five years is to start our own real estate business."
Drum Roll, Please
The big moment came in August 2013. That's when Lorena and Francisco pooled a decade's worth of savings and profits from their home sales and put 100% down on their current place—a 3,300-square-foot, four-bedroom home. They purchased it for $150,000. With all the fixes they've made so far, she thinks it would go for more than $200,000 if they sold it today.
For the first time in Lorena's years of home ownership, her family has plenty of space to stretch their arms and legs. Each kid has their own bedroom, plus a game room, and she can entertain guests in her formal living and dining rooms. When friends come to visit, they brag on the beauty of her home—then ask what her mortgage is. It feels good to finally be able to say, "Nothing."
That simple word has changed Lorena's family tree for good.
"Our kids are proud of us. They always talk about how we paid for our home," Lorena says. "The kids see how hard we work and how we save money, and I think they learn that way. We come from a culture where, whatever money you have, you spend. We try to tell our kids that's not how it works. Money's to give you a comfortable life, but you cannot just waste it because you want to have stuff."
Today's Dream, Tomorrow's Reality
It took Lorena 14 years to achieve her dream of paying cash for a house. If you can't pay cash for a house today, that's okay! Lorena's story proves anything is possible if you put your mind to it.
Follow Dave's advice and keep your mortgage payment to 25% or less of your monthly take-home pay on a 15-year fixed rate mortgage with at least 10–20% down. Be sure you have a real estate agent you can trust to guide you through your own home-buying journey. A true pro works for your best interests, no matter how big—or small—your budget may be.
Need help finding a trustworthy real estate agent? We can connect you with an agent Dave recommends in your area today.