Why Now Is the Perfect Time to Get Top Dollar for Your Home
5 Minute Read | December 02, 2018
Close your eyes for a moment and imagine your dream home.
What does life look like there? Maybe you picture the kids playing in the yard, laughter around the dinner table, or cold nights curled up with a book by the fireplace.
It's magical, isn't it?
Well, if the home you already own is standing between you and your dream, this could be the year you bring that vision to life.
That's because all signs point to a stellar year for home sellers. Consider the numbers.
Buyers Outnumber Sellers in Most Markets
A recent National Association of Realtors (NAR) report found a shortage of available homes in 47 states. Buyers, on the other hand, had a strong presence in 38 states. No wonder more than a third of homes sold in less than a month!

Looking to sell your starter home? It could get snatched up even more quickly. That's because first-time buyers are finally getting back in the game—and they're having a tough time finding homes in their price range.
That's Giving Home Prices a Big Bump
All this talk about buyer competition brings another big benefit to mind. The fiercer the competition, the more you stand to make on your home.

Find expert agents to help you sell your home.
Just ask anyone who sold a home in 2015. Last year, home sellers pocketed an average of 11% more than they originally paid for their home. That's the biggest average price gain since 2008!

You Might Have More Equity Than You Think
Lots of homeowners have been sitting on the sidelines because they think they don't have enough equity to make a sale worth their while. But your home might be worth more than you think.
An analysis of National Housing Survey and CoreLogic data reveals a big gap between reality and perception. Nearly three-quarters of homeowners have more than 20% in equity—yet only 37% believe they do.

3 Easy Ways to Boost Your Bottom Line
Now that we've covered the reasons this might be your year to take the leap, let's talk about how to get the most out of your home sale.
1. Go Pro
In a seller's market, it can be tempting to take fate into your own hands to cut out agent commission. But that decision could cost you.
According to the NAR, the typical home sold by an agent brought in $35,000 more than the typical For Sale by Owner (FSBO) home. Even if you deduct 6% to cover agent commission, working with a pro to get your home sold still puts you ahead by more than $20,000.

What's a pro got that FSBO doesn't? Connections. We all know there's power in numbers. A good agent brings an extensive network to the table so your home can be exposed to as many potential buyers as possible.
2. Wow Buyers
You can't win buyers over with a dirty home. So roll up your sleeves, break out the elbow grease, and clean your home inside and out.
While you're at it, give clutter the boot and find budget-friendly ways to freshen up your décor. It can be as simple as neutral paint, crisp new linens and pops of color here and there.
Be careful not to let neglected fixes trick buyers into thinking your home is more trouble than it's worth. If you've got repairs to make, work with your real estate agent to determine where your fix-it dollars will do the most good.
3. Pay Attention to Price
Nothing scares buyers away faster than a home that's too big for its britches. It doesn't matter how hot the market is where you live. The longer an oversized price tag lingers, the more you stand to lose in the end.
That's why it's important to get the price right from the start. That means taking emotion out of the equation and figuring out your home's true market value.
You can do that by asking your agent to run a comparative market analysis (CMA). A CMA report stacks your home up against recent sales and current listings near you, so you can see what buyers are actually willing to pay for a home like yours.
Is This the Right Time for You?
Experts nationwide expect homes to sell like hotcakes over the next six months, according to the NAR's latest Realtors Confidence Index. In fact, 19 states have a "very strong" outlook for single-family homes.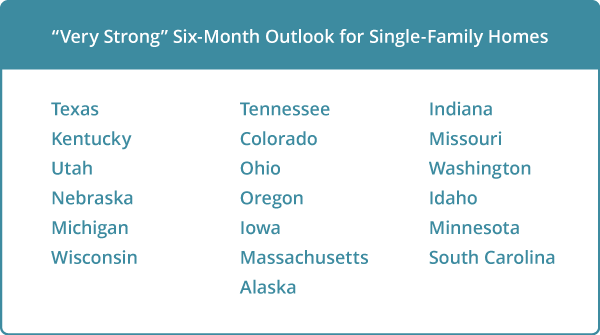 That's great news if you've been waiting for the perfect moment to make a move!
Of course, selling your home isn't a decision to take lightly. You need all the facts to ensure it's a step in the right financial direction. Here are a few signs you might be ready:
Your home doesn't fit your lifestyle anymore, whether you're looking for more space or less maintenance.
You can cash flow the prep work needed to get your home ready to list.
You have enough equity—or cash saved—to put 10–20% down on your next home.
Homes around you have sold quickly and close to—perhaps even over—list price.
You'll need a pro to weigh in on some of these to make the most informed decision. A good real estate agent won't pressure you into a home sale that leaves you broke.
If selling's on your mind and you want a professional opinion, we can connect you with a top agent in your area who will give you the same advice you'd expect from Dave.