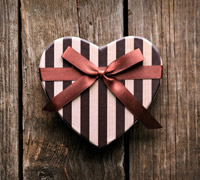 Consumer spending on the upcoming love-holiday—Valentine's Day—is expected to be up 8.5% over last year, according to the National Retail Federation and American Express. The largest increases are expected in jewelry purchases and travel, especially lavish trips where "the question" will supposedly be popped.
Unfortunately, most of those love gifts will be bought with borrowed money. That seems to be the trend these days. The Federal Reserve recently announced that in December 2011, Americans increased their borrowing for the second straight month. Credit cards, car loans and student loans lead the way.
Yes, consumer borrowing rose by $20.4 billion in November and $19.3 billion in December. Those were the two biggest monthly gains in a decade. Meanwhile, the savings rate fell.
Some would spin this as a rebirth of confidence in the economy, allegedly reflecting a belief that the outlook for hiring has improved. Apparently a lot of Americans are placing their bets that these things are true—using borrowed money.
The good news is that millions of other Americans have learned to take control of their spending and are living within their means. For them, Christmas was part of an overall plan—their budget—which kept them in charge of their spending decisions, instead of relying on impulse. And on this Valentine's Day, they'll be doing the very same thing.
Good for them. They won't be paying for already-eaten chocolate and long-wilted roses for the next three months … or maybe even longer.
Have you budgeted for Valentine's Day? Has your budget increased this year?