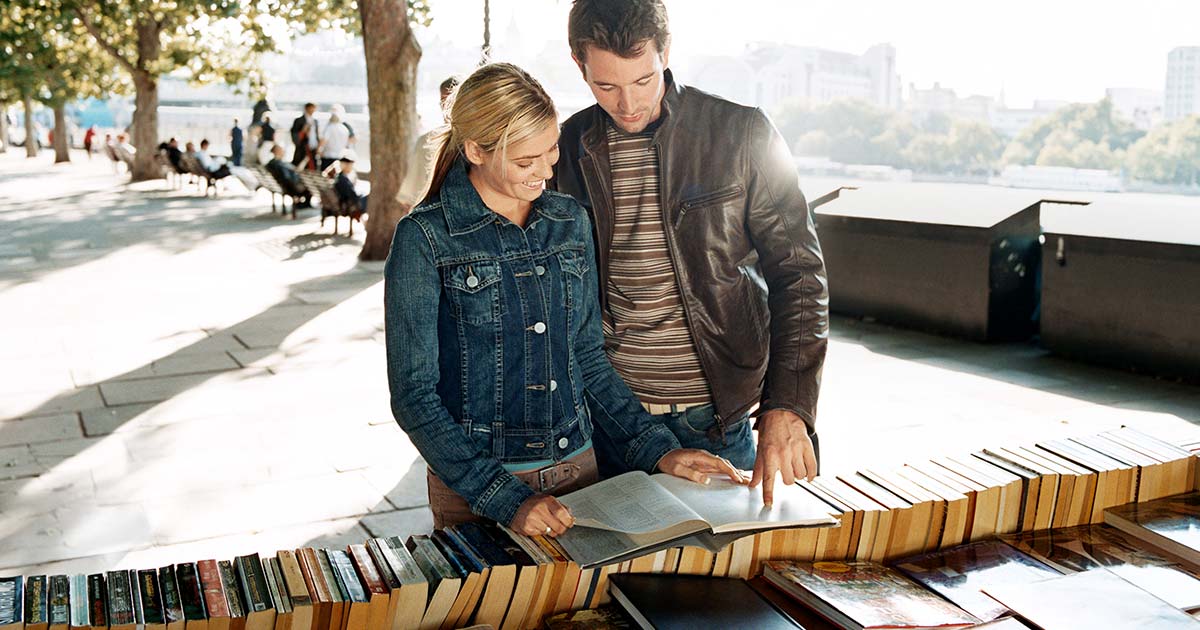 When you're trying to make smart money decisions, you'll be tempted to buy everything used. And that's a great thing.
Yard sales and Craigslist and eBay can be your best friends. But, sometimes, buying used can get you in trouble. You might save a little money now, but you'll pay a lot more in the long run.
So when should you buy new, and when should you buy used?
Let's take a look:
Buy New
Tires. You don't know where those tires have been. Have they been in an accident? Is there a difficult-to-spot nail lodged inside? Sure, new tires can be ridiculously expensive, but wait for special two-for-one deals, and, remember, you don't have to buy top of the line to be safe. Your tires are the only things protecting you and your family from the road below. Don't skimp on them.
Computer Software. Unless you're buying from someone you know and trust, avoid used software. Pirated software and stolen licenses are a major problem, so you should be especially cynical of used software being sold online.
Bathing Suits/Underwear. This really goes without saying, but we're saying it. Why? Because people actually buy this stuff used. This is just a matter of principle. C'mon, man. Buy your underwear and bathing suits new.
Sports Safety Equipment. A lot of things like safety goggles, climbing gear, helmets, elbow pads and knee pads are designed for one-time use. After a nasty spill, they should be discarded. You can't put a dollar amount on your family's well-being, so don't play around with used safety equipment.
Humidifiers. Say what? Humidifiers? If you walk through a Goodwill store, you'll see plenty of used humidifiers lying around. One word: no. You don't know where those humidifiers have been, and you don't know what mold and bacteria could lurk within. Brand-new humidifiers are pretty inexpensive. Avoid the risk and buy new when needed.
Engagement Rings/Wedding Bands. We can hear you now: "But my husband gave me his grandmother's wedding ring!" We're not talking about passed-down family rings or anything like that—this is about buying a diamond online from someone you've never met who tells you it's "a great deal on a beautiful diamond!" Be skeptical. Plus, every relationship is different, but please consider what your fiancée would think about wearing an engagement ring you purchased from a guy who knows a guy who knows a guy whose wife threw that very ring at him as she walked out the door.
Buy Used
Cars. You've heard it all before, and it's true. New cars drop in value faster than a skydiver exiting a plane. When you buy a used car that's at least two years old, you let the previous owner take the majority of the depreciation hit. Do that. And while you're at it, make sure you're actually buying the car, not "buying" it in the form of years of car payments.
Related: Buying a Used Car? 5 Tips You Need to Know
Pets. By "used pets," we mean "free pets" from the shelter or a friend. Breeders and puppy mills can be insanely expensive—and almost all of those pets are guaranteed a home at some point anyway. You could literally save a dog's life by adopting one from a shelter. A good deed done at no cost? Count us in.
Tools. Have you ever felt a hammer? They're as sturdy as an oak. Seriously, hammers have a longer life-span than an elderly sea turtle. Most hand tools are very well made, so there's no reason to buy them new unless there's just an obvious flaw.
Baby Clothes. Your little bundle of joy will wear a "Feed Me or Nobody Sleeps" onesie just a few times before it's covered with mashed carrot stains. Then they'll outgrow the outfit without even knowing they wore it. So don't pay for new baby clothes, even if you think they are cute. We promise, your kid's got the "cute" factor covered.
Books. Trust us: Used books are just as easy to read as new books. The words are exactly the same! You might have a coffee spill here or there, but this isn't a mattress you'll be sleeping on for 10 years—it's one or two pages that will take you three minutes to read. You can almost always buy books used—and enjoy that aromatic book smell while you're at it!
Related: 7 Books That Will Change the Way You Think About Work and Life
Video Games. If the game you're thinking about buying doesn't have any scratches, you should be fine. Most video games are gently used because very few get played after a few months. A brand-new game can easily cost $60. But if you wait a few months for the used versions to hit the market, you could save $10 to $20 at least.
Exercise Equipment. We haven't done any highbrow, formal research here, but our guess is that a large majority of exercise equipment, like treadmills, gets used for a few months, then becomes a makeshift clothes hanger. You'll likely find outstanding deals on treadmills, ellipticals, and all kinds of exercise equipment that's less than a year old. Look for those before you consider buying new.
Related: Yard Sales: 5 Pros and Cons You Need To Know
Of course, there will be exceptions to all of these examples. We always say that it's perfectly fine to buy a new car if you're a millionaire because the depreciation hit won't affect you that much. Or if you're buying a bicycle helmet from your trustworthy brother who only used it once before he decided it wasn't a good fit—then that makes sense too.
This isn't an exhaustive list of everything you can buy used or new—and it's also not a Holy Grail. There are always exceptions. So use common sense while making the most of your money at the same time.
Whether you buy new or used, make sure you budget for your purchase! For easy online budgeting, check out our free budget software EveryDollar.