Get Youth Talking With the Brand-New Generation Change
3 Minute Read | December 31, 2018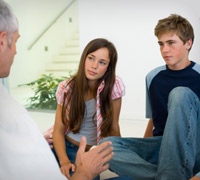 "My dad is the emergency surgeon, and I'm the preventative medicine," jokes Dave's daughter Rachel Cruze.
Don't worry. The Ramsey family won't be opening a one-stop doctor's office anytime soon. She's actually talking about one of her favorite topics: teens and money.
Rachel grew up traveling all across the country with Dave—even hopping on stage for a few minutes to talk about life as a Ramsey. At nearly every event, she'd hear from adults who all seemed to say the same line: "I wish I had known this stuff when I was younger." Many found Dave in their thirties, forties and fifties, and they were just starting to get control of their money. Good for them, but what about their kids?
So Rachel made it her mission to reach out to the next generation—to make sure they never have to vocalize money regrets later in life. She travels on her own now, sharing information with students about God's ways of handling money. And boy do they need it.

Your child can win in life and money. Check out our online courses!
Teens and young adults are signing up for debt in amounts our country has never seen before. Most of the time, they just don't know any better. Rachel says, "This generation, more than any other in the past, needs to learn about contentment—that money and stuff can't be the center of our world. Thanks to social media and the internet, teens can easily get overwhelmed by mixed messages."
That's why Rachel's excited to offer a brand-new version of Generation Change—a program on life and money for teens. The totally revamped Bible study covers everything from personal identity to money management, avoiding debt, and planning for life after high school.
"Our goal is for Generation Change to remove the chaos from a teen's life and replace it with a message of hope—to show students how to prevent financial heartache and live a debt-free life," Rachel says.
We're offering Generation Change in a home edition for parents to go through with their own teens as well as a church edition for youth groups. Both include engaging videos and workbooks complete with fun activities, discussion questions and journal prompts. It's designed to get teens on track before they enter adulthood.
Of course, Rachel knows what it's like to have parents who didn't learn God's ways of handling money until later in life. "When I hear a family call my dad's show to do their debt-free scream—and kids are in the background—I get emotional because I think, 'I was that little girl.' My parents did the same thing. It just shows that you really can change your family tree."
By setting an example and taking control of your own finances, you're already making a huge impact on your kids and teens. Actually talking about money, though, can be a little awkward. In fact, parents talk more about sex, drugs and alcohol with their teens than they do about money. Generation Change is a great starting place to get the conversation going.
Get more information about the new Generation Change Bible study for youth. You can preorder church editions now, and home editions will be available after Thanksgiving, arriving just in time to find a spot under the Christmas tree.