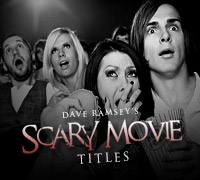 They're not coming to a theater near you, but they are funny! Dave's Facebook fans were quick to respond with witty Halloween movie titles with a twist. Here are some of the best that have been submitted so far:
Friday the Chapter 13 – Kara S.
I Know What You Spent Last Summer – Lewis M.
Mon$ter$ – Eddie M.
The Spending – Tine D.
Nightmare on Wall Street – Tom H.
Chainsaw Mastercard – Indie B.
Children of the Coin – Eddie M.
The Taxorcist – Dave M.
Silence of the Collectors – Janine H.
Invasion of the Wallet Snatchers – Jonathan H.
101 Down Payments – Angela G.
Die Card – Charlie B.
Credit Card Snakes on a Plane – Jeri W.
Got another funny one? Post a comment below!