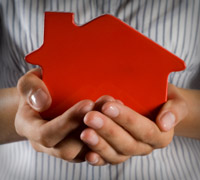 If you're about to sign on the dotted line for a mortgage, there are a few things you should know. Buying a house is a huge step, particularly if it's your first home. Always remember to hate debt when you buy a house. This will instill you with a passion to pay off your home early.
There are some ridiculous mortgage options available. If you're not familiar with the various plans, take time to educate yourself about the different choices so you don't make a mistake. No one wants their dream home to become their worst nightmare because they found out the hard way they couldn't afford their house.
Adjustable Rate Mortgages (ARMs)
An ARM is a mortgage with an interest rate that changes based on market conditions. The intention is to transfer the risk of higher interest rates to you and, in return, the lender gives a lower rate up front. This is a bad idea because you only pay interest. Since they can qualify for more home, many people find this mortgage appealing; however, as many homeowners learned in the economic downturn, if your rate adjust higher or you lost your job, your payment can quickly become too much for you to afford. Read more.

Reverse Mortgages
A reverse mortgage is when a homeowner borrows against the equity in their home and obtains monthly, tax-free payments from the lender. This mortgage is a bad idea because you are putting a paid-for home at risk, and the fees are horrible. In fact, the FTC claims that reverse mortgages have the most fraud in the mortgage business.
Accelerated/Bi-Weekly Payoff
The idea is to make a half-payment every two weeks, which comes out to 13 payments a year. You're paying off your home early by making an extra payment each year. Now, this is a good idea, but it's a bad mortgage option. There's no need to pay your lender a fee in order to make the extra payment. You can easily pay extra on your own without having the fee tacked on.
Tax Advantage
Technically this isn't a mortgage option, but many people hang on to their mortgage instead of paying it off early; they're convinced they will get a tax advantage. If you're keeping your mortgage in order to get a tax cut, that's just dumb. Don't fall for that myth; the math just doesn't add up.
If you're ready to buy or sell a home, work with a real estate professional you can trust. Contact one of Dave's real estate Endorsed Local Providers today!