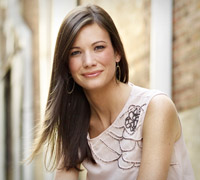 By Amy Hammond Hagberg
Originally published in the December 2011 edition of Living With Teenagers magazine, © 2011, LifeWay Press®. Reprinted with permission.
When financial guru Dave Ramsey found out his 15-year-old daughter, Rachel, had bounced three checks, he didn't yell or get angry. Instead, he told her in a calm voice that the following day she was to go down to the bank and apologize.
As her mom waited in the parking lot, Rachel walked through the big glass doors of the bank, down the long hallway to the branch manager's office, and knocked sheepishly on the door. She was scared.
"What can I do for you, Miss Ramsey?" the bank manager said with a quick smile.
"Well, I'm here to apologize to you for lying."
"Excuse me?" he said.
"I told you I had money in your bank to spend, and I didn't. That's a lie and I'm sorry."
He started laughing. "Did your father tell you to come down here and say that to me?"
Rachel learned an important lesson that day and hasn't bounced a check since. She also learned that owning up to mistakes can have unexpected payoffs—after her apology, the bank manager waived her overdraft fees.
The House that Ramsey Built
Dave Ramsey is one of America's foremost experts on personal money-management. Starting from nothing, he had a net worth of more than $1 million and was making $250,000 a year by the time he was 26.
He also had a lot of debt. After fighting it for more than two years, he and his wife lost everything. He went on a quest to find out how money really works and slowly worked his way out of the red. In 1992, he formed The Lampo Group to counsel people hurting from the results of financial stress.
Since then it's been an impressive rise to fame. His New York Times best-selling books—Financial Peace, More Than Enough, and The Total Money Makeover—have sold more than 6 million copies combined. His latest book, EntreLeadership: 20 Years of Practical Business Wisdom from the Trenches, released in September. His nationally syndicated radio show is heard by 4.5 million listeners each week on more than 500 radio stations.
He is also the founder of Financial Peace University, a 13-week program that helps people dump debt, get control of their money, and learn new behaviors that are founded on commitment and accountability. More than 1.5 million people have attended FPU classes.
Growing Up Ramsey
The Ramseys' growing financial statement didn't change the way they raised their children. In fact, Rachel didn't really know that her father was successful until strangers started recognizing him when she was in her mid-teens.
"Our lifestyle didn't change much," she said. "We went on nice vacations and things like that, but nothing extreme ever happened. It wasn't like one day Dad suddenly said, 'We're going to buy whatever we want.' I don't want to say they were frugal. They enjoyed their money, but they were not lavish or very showy."
Early on, Dave and Sharon Ramsey taught Rachel and her siblings the importance of saving, spending, and giving, along with how the decisions they make with their money reflect their values.
"My parents worked hard for the money they earned and they wanted us to make that connection," she says. "So we worked and had a commission as kids. We never were given an allowance.
"You work, you get paid. You don't work, you don't get paid. Like in the real world. We learned that when we were 5 years old."
Saving was a top priority. Despite their father's success, turning 16 in the Ramsey house didn't mean getting the keys to a new car and a full tank of gas.
"Mom and Dad told us growing up that they weren't going to pay for our cars when we turn 16. They would pay for half of them and would match whatever we had saved. We had a goal for saving, and we learned how to spend money wisely."
Rachel worked hard and was able to save $8,000 by the time she was 16. When her parents matched her cache, she was able to purchase a $16,000 car—not bad for a high school student.
Since her parents refused to be an "ATM," Rachel learned fiscal responsibility was by managing her own checkbook. When they turned 15, each Ramsey kid opened a checking account. Each month, their parents deposited the money they would normally spend on the kids' food, entertainment, clothes, gas money, and any other expenses. Then, they put the kids in charge of managing those funds with a checkbook and debit card.
The Ramseys also stressed the importance of giving. "Even when my parents didn't have a lot, they were always helping others. I've learned through my parents how great blessing others can be."
Rachel's Personal Mission
After graduating from The University of Tennessee in 2010 with a B.A. in communication studies, Rachel joined Dave's team full time. Today she's passing on her father's financial principles to her generation at high schools, colleges, and youth conferences. Get more information.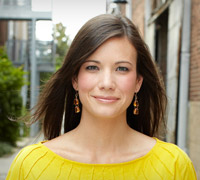 "I feel very strongly about reaching my peers with this message," she says. "I can use the platform my dad has built to reach even more teenagers and young adults."
Young people often make bad financial decisions that affect the rest of their lives. One of the biggest mistakes is getting caught up in the trap of credit cards.
"If you can't afford it, you don't need to buy it," Rachel shares. "Save and pay for everything with cash. Use a debit card. Your debit card works just as well as a credit card, but you actually have money in the bank."
In Rachel's view, student loans, which can lead to as much as $26,000 in debt, are also a bad idea. Instead, she recommends using a pay-as-you-go strategy.
"If the average college student works 20 hours a week, they can pay their way going through a state school," she explains. "The financial aid office will work with them so they can cash flow their way through a semester."
A private school can cost five times as much as a state school, so Rachel tells students that if they can't afford to go to a private school and pay cash, go to a state school or community college.
"It's an amazing thing when you can graduate from college completely debt free, not owing anyone anything."
Debt-Free Matrimony
In 2009, Rachel married Winston Cruze. Before they walked down the aisle, they went through Financial Peace University together and made sure they were on the same page when it came to money.
"Even though I grew up learning how to handle money, I had never had to share the responsibility with anyone else," she points out. "Now Winston and I sit down each month and have our budget meeting. We lay out a plan for our money and agree to stick to it. Working together when it comes to finances has allowed our marriage to be strong from the beginning and focus on good times rather than fighting about money."
"It's hard for me to stick to it," she admits. "I'm the spender. Winston is a saver. There needs to be some balance in your marriage to get the budget to balance and to work."
The Graduate Survival Guide
There are so many questions when you go to college. On campus or off? Used books or new? Find a roommate or live by yourself? Do you sign up for that credit card to get a free meal or is that a scam?
The Graduate's Survival Guide is a resource guide for incoming college students to find the answers they need about college life. It covers everything from meal plans to scheduling classes to housing options. You don't have to read it cover to cover or watch the entire DVD. You can flip it through to easily find the information you are looking for.
AMY HAMMOND HAGBERG is a veteran writer, speaker, and radio host. She recently co-authored (with David Parnell) Facing the Dragon: How a Desperate Act Pulled One Addict Out of Methamphetamine Hell (Health Communications, 2010). Amy lives with her family in Buffalo, Minnesota.