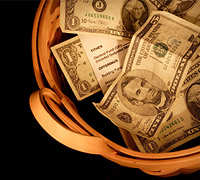 "We will never be reluctant to talk about money again in our church," said Gene Deverick, Administrative Pastor of Grace Church in Indiana.
After attending Dave Ramsey's Momentum workshop, Deverick went back and led a movement they are calling the "Freedom Campaign." He describes it as "a church-wide revelation of personal finance, God's way—building a financially responsible congregation."
As part of this journey of financial discipleship, Grace Church has encouraged the entire congregation to participate in Financial Peace University (FPU) classes.
It didn't take long for the Freedom Campaign to become their largest all-church activity in years. Virtually everyone in the church has gotten involved—about 700 people. "It has created a sense of single purpose and unity across generations," Deverick said.
This isn't a capital campaign. It isn't about building a building. It's all about teaching God's people to be good stewards of all of their resources—starting with their money. As they've seen at Grace Church, the rest takes care of itself.
A Shared Journey to Financial Peace
Deverick says there is an understanding that they are working together as a congregation toward financial peace. "Previously it was not 'politically correct' to talk about money or give financial advice." Now, they are able to be open and to meet those needs with confidence.
"Our on-staff family counselor appreciates having FPU as part of the church culture," he said. "So many of her clients have money problems, and she is happy to be able to refer them to the next FPU class."
But the course doesn't just benefit those who are in financial trouble. There are over 800 Scriptures that relate to money, and FPU helps people to incorporate more of that wisdom into their lives—wherever they are—in a tangible, practical way. "God speaks to His people through FPU," Deverick said.
At Grace Church, they now enjoy the freedom to speak boldly about financial matters. "The Freedom Campaign established the church's position on money—not just giving, but on the whole issue of handling God's money God's way," he said. "Money is no longer considered a private matter, and asking people to give no longer feels like begging."
Of Marriage and Money
Money problems are still the leading cause of divorce in America, inside and outside of the church, and Grace Church is doing something about it. Throughout their FPU classes, they have seen marriages healed and strengthened as couples get on the same page. "One couple in particular flatly stated, 'FPU has saved our marriage.'" Deverick said.
The leadership has noticed that the relational principles woven into the lessons help couples begin to communicate about not only money, but other important life issues as well. Like Dave says, when you can talk about money, you can talk about anything!
Beyond the Church Walls
On top of the synergy within the congregation, Deverick said their FPU classes have brought new people to the church.
"Some of the people who were unchurched have warmed up to ours and started attending worship services," he said. Many of the student participants who did not have church homes now attend as well.
Meeting the need for financial education has been bringing outreach to the church.
The Journey Continues
They have already run two additional rounds of FPU classes, with a whole lot more life change on the way. The best part? It is becoming self-sustaining.
"I have realized that the excitement and buzz created by one FPU class generates interest in the next," Deverick said.
At Grace Church, financial discipleship through FPU is not a one-time event. It's now part of the culture of the church, where they are dedicated to teaching God's people how to handle money God's way.
We can help you create this amazing culture in your congregation, too! Learn more about Dave Ramsey's Momentum workshop.