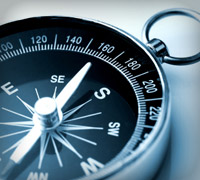 Know thyself, and to thine own self be true, then thou canst not be false to any man. —Shakespeare
How are you doing with your goals for the New Year? If you've lost focus, go back to your mission statement and read it over a few times. Do your goals still line up with your overall mission?
But what if I don't have a mission statement?
Mission statements are not just for corporations or high-level executives. Whether you're a stay-at-home mom, a retail store manager, a college student or a truck driver, crafting a personal mission statement will serve you well. It's important because it gives you focus on how to meet your long-term goals. It serves as a guidepost for where you want to go in life. The cost of a mission statement is small, but the outcome is great because, simply put, it works!
Author and career coach Dan Miller says a good mission statement should include your:
Skills and abilities (what you like to do)
Personality traits (how you operate)
Values, dreams and passions (why you want to excel)
Take some time to think about and write down what each of those mean for you. That info lays a good foundation for crafting your mission statement.
Next, add the principles you live by to the mission statement. Why did you set these goals? How do your goals make you a better person? The mission statement should answer these questions in 50 words or less. Don't worry if your statement doesn't mirror your friend's; every statement is different because no two people are the same.
Once you have a written mission statement, start using it! Get it framed and put a copy in your home or office so you see it often and are surrounded by your own positive attitude.
Not only should you live according to your mission statement, but it's important that others know about it as well. You want people to know that you're going to live up to what you wrote in your mission statement, so spread the news!
Speaking of letting people know, Dave's company has a mission statement that is posted throughout the building, and every team member is required to know it like the back of their hand. It's why we exist.
The Lampo Group, LLC. is providing biblically based, common sense education and empowerment which gives HOPE to everyone from the financially secure to the financially distressed.
Having your purpose written out will add value and productivity to your life. Once you have it, we recommend going through Financial Peace University where Dave teaches a lesson about how to work in your strengths.
What is your mission statement? Let us know by leaving a comment below!