Getting out of Debt
Military Family Living Like No One Else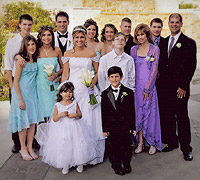 Debt-Free FamilyThe Colon-Borowiec family is all smiles as they gather for a family wedding in 2008.
In October 2000, Army Master Sergeant (MSG) Tony Colon and his wife, Carole, were almost $25,000 in debt.
"I went into debt [before marriage] because of a lack of understanding how to handle money and wanting a ton of things before I could afford them. It caused sadness and uncertainty for the future," he said.
Just a few years later, they were introduced to Financial Peace University, and everything began to change. While stationed at Ft. Leonard Wood, Missouri, his unit paid for his team to go through Financial Peace Military Edition.
When the Colons first heard Dave Ramsey say "if you will live like no one else, later you get to live like no one else," they took the challenge seriously. In just under two years, they became debt-free … on one income and with 14 kids—six still living at home!
Yes, folks, it can be done regardless of income amount!
Now they are saving up to put 100% down on a $150,000 home. "We have 83% saved as of February 10."
"Carole and I are secure and confident about our financial future. We are grateful to be in a position to have a positive impact on our family, coworkers and friends," Tony said.

More than 5 million have beaten debt this way. You can too!
Paying It Forward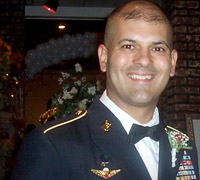 Paying It Forward
"We feel that we have a purpose and responsibility to share our knowledge and successes," MSG Tony Colon said.
Since 2008, Tony has offered money-management coaching to his unit at Ft. Campbell (Kentucky), helping soldiers and their families get out of debt and build wealth.
"Studies have shown that servicemembers who take control of their money and are communicating effectively with their family, are experiencing less stress while separated than those who don't have a plan," he said. "I have a strong desire to share our success with others in the hopes that they could experience the great life that living debt-free brings."
Since April 2008, they have had 187 soldiers and military family members complete Financial Peace Military Edition with a total turnaround of over $1 million! Thirty-five of these families have already reported that they are now debt free!
"We feel that we have a purpose and responsibility to share our knowledge and successes," he said. "Seeing a smile on someone's face who has been through the course and succeeded makes it all worthwhile."
It's a powerful thing to turn your own life around. Sharing the hope you've found with hundreds of others and changing their lives takes it to another level. Well done, Colon family!
This week marks an exciting annual initiative that encourages other servicemembers to discover the power of saving money like the Colon family has. Military Saves has grown immensely over the past few years with thousands of servicemembers taking the pledge to save money, reduce debt, and build wealth. Spread the word to the servicemembers in your life as we celebrate Military Saves Week!