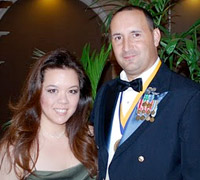 Now Happier Than Ever!SFC NGCA David Coss and his wife, Kathy, are passionate about spreading the debt-free message to fellow servicemembers.
Memorial Day is the unofficial launch of summer. With this holiday's arrival, it's easy to focus on the fun stuff—cookouts, upcoming summer vacations, family time—and forget what Memorial Day is all about.
Without the servicemembers who provide our freedom every day, we wouldn't be able to provide hope to the millions of Americans who seek freedom from debt. That's why Dave Ramsey is so passionate about teaching servicemembers the importance of money management.
One military couple recently had the opportunity to take Dave's Financial Peace University Military Edition. Their results were dramatic.
"Wow, I cannot even begin to express how taking this class has changed our lives," said SFC NGCA David Coss.
When he met his wife, Kathy, in 2007, he said he was a compulsive spender. "If I made one dollar, I spent two," he said. "I owed the IRS well over $15,000, had multiple car loans, an RV loan, boats, snowmobiles, Jet Skis—everything that could get me in trouble. Credit was something to be used as often as possible to live the happy life."
He said it's safe to say that from age 18 to when he took FPU, he easily blew over $150,000 with nothing to show for it.
In late 2009, Kathy asked him to take FPU with her, having already taken it with a friend. "I reluctantly did so feeling that I did not need to be told how to manage my money," David said. "Was I ever wrong."
A Total Turnaround
They began the class in September of 2009 at a church in Clovis, California, and David immediately fell in love with the message like his wife had.
"Many of the things that Dave says not to ever do, my Kathy and I have done," he said. "Like many Americans, we were in an Adjustable Rate Mortgage, in a house that is over $100,000 upside down, and of course had the credit cards and car payments."
In November 2009, they began their budget and made a decision at that time to have all of their bills (minus house payment) paid off by December 2010. "We were surprised to find out that it was not only making a difference, but was also easy to do," he said.
The Cosses got gazelle intense! From November 2009 until May 2010, they applied extra payments to as many bills as possible. Kathy took on a temporary second job for some additional income, and they used that money toward their bills. They have already whittled down their debt to $3,500!
Happier Than Ever
"Through all of this, we have strengthened our marriage through a unified effort of being debt-free. While we had a strong personal marriage, our financial marriage was fractured," he said. "We have since come together with the same desires and goals, and I believe that we are happier than ever before."
David and Kathy have been spreading the word about what Financial Peace has done for them to everyone they can—friends, family and David's fellow servicemembers. "I believe that this class is the single most important class that can be given by someone who truly cares for a friend, family member or colleague."
David wishes he'd had the information from the get-go. He hopes servicemembers realize the impact they could make on their life and their family tree by starting young.
"If an 18-year-old troop fresh from Basic Training would apply the principles of this class to his life for the next 20 years, not only would he be rich when he left the service, he would be debt-free and carefree," he said. "And using wartime pay to pay off debt quickly will help troops live happier and fuller lives without the crushing fear of debt."
Learn how you can bring Financial Peace University Military Edition to your base.