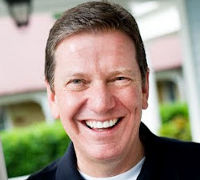 In today's world of nonstop communication, millions of messages and even more cute kitten videos, how do you, as a business owner, get your brand, product or service noticed? According to Michael Hyatt, author of the new book Platform: Get Noticed in a Noisy World, the secret is anything but traditional. It's about social media, and those who are doing it well are leaps and bounds ahead of their competition.
Michael should know. Besides his book, which was recently released, he is chairman and former CEO of Thomas Nelson Publishers, the largest Christian publishing company in the world. He also has more than 123,000 followers on Twitter, and his personal blog on intentional leadership has nearly 215,000 subscribers.
Michael recently stopped by to talk about his new book and give insights on social media with EntreLeadership Podcast host Chris LoCurto. Here's a sampling of their conversation.
Chris: How can your book help a business owner build their social media platform?
Michael: Basically, I give you a framework for understanding how you market in this new world. And it starts by building a home base, then expanding your reach, and finally engaging your tribe. You really have to do these three things if you're going to be successful in the new world of marketing.
Marketing today—this may be a little bit of an overstatement, but let me say it—marketing is dead. In other words, the days of me just pitching you and wearing you down so you buy my stuff are over. What it's about today is really sharing who you are and what you're passionate about. It's telling stories and engaging people. In the book, I walk you through it step by step.
Everything I recommend in the book, I've done, so it's not speculation. This is down-to-earth, practical, step-by-step instructions. I wrote it for someone who doesn't have a technical background or is a little bit put off by social media.
Chris: If I'm new to social media, how in the world do I get started?
Michael: You need a place in cyberspace that you own and control. It's not a rented platform. It's not a borrowed platform. It's your own platform where you control the messaging. You need a website or a blog. Now you say, "Well, I'm not a writer. I couldn't possibly do a blog." So, could you do a video blog? Could you do a podcast? Could you do something that establishes your expertise and your authority, so that people want to connect around your passion—the thing that matters to you? Almost everybody can do that in some shape or form.
Chris: And starting out, it doesn't have to be super high-quality, right?
Michael: Absolutely. In fact, I would say in some ways the lack of production value makes it more trustworthy. When it's really slick, we dismiss it.
I'll give you an example. I have a friend who owns a video business in Brentwood, TN, and he is trying to establish his credibility as a professional videographer. In his videos, it's just him talking about what it takes to make a great video. It's just him talking directly to the camera. It's very simple. It's exploding because people trust it. He is being recognized as the go-to guy for video.
Chris: If you were looking back at a young Michael Hyatt, what are some of the things you would tell him about leadership?
Michael: Be a voracious reader. Most people in our culture are not readers. But readers are leaders. If you invest the time, you'll grow. Another thing: Spend time, energy and money on conferences. Conferences are different because you can network with other like-minded people. That has been huge for me.
I would also tell the young Mike Hyatt to hire a coach sooner. I didn't hire a coach until 10 years ago. It was one of the absolute best decisions I ever made, and it was expensive when I did it. I was spending about $10,000 a year on a coach, but the investment grew tenfold. It's one of the reasons I ended up becoming the CEO at Thomas Nelson. I had somebody who could objectively look at my life and say, "Mike, you don't see this, but here's what you need to focus on."
Chris: What is your best advice for a new leader?
Michael: You have to realize that the people, whether you like it or not, are going to emulate you. They are going to follow your faults and your strengths. So, I am constantly working on the prototype of my own life knowing that people are going to mimic me. You can change your own behavior and have an enormous impact on people down the line from you. Working on yourself should be number one for every leader.
Chris: What are the top leadership books that people need to be reading right now?
Michael: The one I always recommend is John C. Maxwell's The 21 Irrefutable Laws of Leadership. I think it establishes a baseline and introduces you to some of the topics that are important.
I'm reading one that's helping me understand why I do what I do for maybe the first time in my adult life. It is called The Power of Habit. It's all of the science that has been accumulated for 20 years about how we build new habits and break bad habits. That's just one of the current ones that I'm reading. Typically, I'm most excited about what I read last.
For more of Michael and Chris' conversation, plus a lesson from Dave on personal selling, download the latest EntreLeadership Podcast.