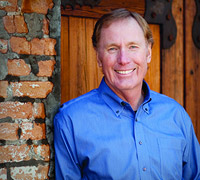 "Down deep, we all want to do something that outlives us—something that makes the world a better place," said pastor and best-selling author Max Lucado. But all too often the hustle and bustle of life distract us from the things and people that matter most. We get trapped in the mundane and find ourselves wondering, "Could one person really make a difference anyway?"
Outlive Your Life is shaped around the idea that not only can we make a difference; we were made to. Finding out how to do it may seem daunting at first, but as Max would tell you—once you start helping those most in need, you never go back.
Here are some things Max recently shared about the central concepts in the book:
When have you experienced the travesty of poverty and famine up close? How did it affect you?
When we were missionaries in Brazil, I was put in charge of what we called the Benevolence Program. You can imagine in the capital city of a third-world country the number of people that would come by our church desperately needing help.
What rings with me to this day is that the challenge of helping the poor is very complicated. It's one thing to give them food for the day. It's another thing entirely to help them get back on their feet. As a young missionary in Brazil, I might have had a kind heart, but I didn't have a clue what to do—and I still don't. That's what's led me to work with organizations like World Vision and Compassion that spend 24/7 figuring out how to handle problems we don't even know where to begin with.
In your book, you talk a lot about reaching outside your comfort zone to help others in radical ways. What is a good first step for someone who wants to do that?
I think the first thing to do is reach out to the people in your own neighborhood. Many people would think, "I come from a middle-class or even an affluent neighborhood, so I don't know anybody in need." But nine times out of 10, if you ask God to lead you to somebody, you're going find someone who's recently been laid off or who's going through a rough time, emotionally if not financially.
The other thing I encourage people to do is check out child sponsorship. That's a good entry level into compassion because for about $30 a month, you can really make sure that a child has clean water, vaccinations, access to education, and enough food to eat. Plus, you have a picture and the name of a child that connects to their part of the world, which often springboards into greater levels of meeting peoples' needs.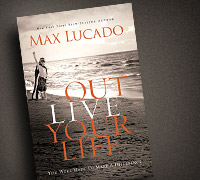 Who should we help?
If someone is poor because they don't want to work, they need to get off their duffs and get to work. But the truth is that some people are working as hard as they can, and they are every bit as industrious and energetic as any person down the street.
Yet, they were simply born in the wrong place: a country that is void of vaccinations or education or paved roads or clean water, or a place where rebels come in and ravage their families, or AIDS comes and takes their parents. They were really born disadvantaged. Some of those people are in inner cities. Many of them are in third world countries. These are the people I think we're called to help.
You may have heard it said that people wouldn't remember the Good Samaritan if he only had good intentions. He had money, too. What are your thoughts on that?
Well, I have strong feelings on that whole thing. I'm a huge Dave Ramsey cheerleader. At our church just yesterday, we were advertising Financial Peace University. We beg people to get out of debt—we beg them to. Our church is out of debt, too, and right now we enjoy the freedom of being able to use that money that would have gone to interest or mortgage payments to be much more generous. My wife and I have always been out of debt, and that's enabled us to do more.
I always encourage people: If you're in debt, get out of debt first. You've got to honor these obligations. But once you've gotten that taken care of, "Owe nothing to anyone except love." (Romans 13:8)
A lot of people write as a hobby. As a writer, what do you enjoy doing to refresh yourself?
For me, writing is torture! No, actually I really like to play golf. It's really the only hobby I have right now, but that one's plenty. My wife and I are really enjoying this stage of life. We miss our daughters who have all moved out of the house now, but it's a fun stage.
If you're serious about leaving a powerful legacy, reading Outlive Your Life will help you do it—but so will buying it. All the royalties from this book are being used to build water wells in Uganda.