By Martha Thompson, Director of Guest Relations
It's strawberry season! This is an easy but delicious cake that is perfect this time of year. It starts with a white cake mix but ends up as a beautiful, moist three-layer pink cake topped with strawberry butter cream icing. Enjoy!
Cake Ingredients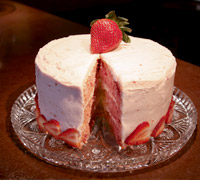 1 cup vegetable oil
4 large eggs
1 white cake mix
1 – 3 oz. box of strawberry Jell-o
24 oz. frozen, sliced strawberries (thawed)
Icing Ingredients
2 sticks of butter at room temperature
6 oz. block of cream cheese at room temperature
4 cups of 10-X powdered sugar
4 tablespoons of juice and pulp from strawberries
Directions
Preheat oven to 350 degrees. Prepare three eight-inch round cake pans by lining bottom of pans with wax paper sprayed with non-stick baking spray and lightly floured.
Drain thawed strawberries and reserve the juice with pulp. Mash strawberries to small pieces with a fork and measure one cup. Set aside.
Combine cake mix, oil, eggs and dry strawberry Jell-o in a mixing bowl and beat until blended. Stir in cup of mashed strawberries until blended. Pour mixture evenly into the prepared cake pans. Bake 30 minutes at 350. Cake is done when toothpick inserted in the center comes out clean. Cool cakes in the pans for 10 minutes, then gently turn cakes out onto plates to cool completely.
To make icing, mix softened butter and cream cheese in mixer bowl until smooth. Slowly add powdered sugar and mix well. Add strawberry juice with pulp by tablespoon to give the butter cream icing color and a touch of strawberry pieces. Do not add too much juice or your icing will be too thin. Chill icing for about 10 minutes, and then you are ready to spread.
Store the finished cake in the refrigerator until you are ready to serve. Garnish with fresh strawberries right before serving.
Get more recipes and behind-the-scenes news straight from Martha by following her on Twitter @marthas_place.