By Martha Thompson, Director of Guest Relations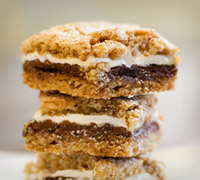 When it comes to summertime camping, there's one thing you can't forget to bring: all the ingredients to make s'mores! Everybody loves s'mores, the traditional campfire treat consisting of a roasted marshmallow and a chocolate candy bar sandwiched between two graham crackers. Credit for inventing this delicacy goes to the Girl Scouts. The original s'mores recipe was introduced in the 1927 Girl Scout Handbook. The name "s'mores" came from the fact that they tasted so good—after eating one, everyone asked for "some more."
This delicious summertime treat is reason enough to start gathering kindling! However, if building a campfire isn't in your near future, you might want to try making these S'mores Bars that can be baked right in your own kitchen. And, you certainly don't need to be a Girl Scout to enjoy eating one!
Ingredients
3/4 cup sugar
1/2 cup butter, softened (1 stick)
1 large egg
1 teaspoon vanilla extract
3/4 cup graham cracker crumbs (about 6 sheets of graham crackers crushed to fine crumbs)
1 1/3 cups all-purpose flour
1 teaspoon baking powder
1/4 teaspoon salt
4 (1.5-ounce) milk chocolate candy bars
1 cup marshmallow creme (Find this near the peanut butter in your store)
Directions
Preheat oven to 350F. Lightly grease an 8-inch glass baking pan.
In a large bowl, beat sugar and butter with an electric mixer until creamy. Add eggs and vanilla; beat until combined.
In a small bowl, combine graham cracker crumbs, flour, baking powder, and salt. Add to butter mixture and beat until combined. Form a ball of dough with your hands.
Divide dough and press 1/2 of dough in the pan, spreading evenly to edges. Lay chocolate bars on top of dough, breaking apart as needed to create an even layer of chocolate.
Drop marshmallow creme by spoonfuls across the top of the candy bars. Gently spread over the chocolate.
Take the remaining dough and pat it out evenly on a sheet of plastic wrap or wax paper in the shape of a square (to fit your 8-inch pan). Lift dough with wrap and gently turn square of dough over the layer of marshmallow creme and press edges to fit. Bake 30 minutes. Cool completely and cut into bars. Makes 2 dozen.
Get more recipes and goodies by following Martha on Twitter @Marthas_Place.