By Martha Thompson, Dave's Director of Guest Relations
I have always loved the friendly sounds of the ice cream truck as it drives through our neighborhood. Ice cream trucks have been around for decades, offering cool treats such as my all-time favorite, the Orange Creamsicle. This recipe brings back great memories of a treat that's been around a long time!
Ingredients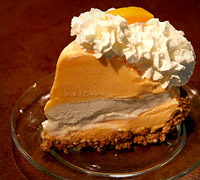 26 gingersnap cookies
1/3 cup pecan pieces
5 Tbsp plus 1 tsp butter, melted (1/3 cup)
2 pints orange sorbet or sherbet
1 pint vanilla ice cream
1 cup (1/2 pint) heavy whipping cream
1/4 cup confectioners' sugar
Optional garnish: orange slices
Directions
Make the crust. Coat a 9- to 10-in. pie plate with nonstick spray. Pulse gingersnaps and nuts in a food processor to make fine crumbs. (If you do not have a food processor, finely crush cookies and pecan pieces in a sturdy plastic food bag with a rolling pin or bottom of a heavy saucepan.) Add butter and process to blend. Press over bottom and up sides of glass pie plate. Freeze 30 minutes until firm.
Prepare the filling. While crust is freezing, soften sorbet and ice cream until spreadable but not melting. Spread one pint orange sorbet or sherbet over bottom of your crust. Spoon on ice cream and spread into an even layer. Top with spoonfuls of remaining sorbet and gently spread to edges of pie. Freeze at least 4 hours, or wrap airtight and freeze up to two weeks.
About 15 minutes before serving, remove pie from freezer. Beat cream and sugar in a large chilled bowl with mixer on medium-high speed until soft peaks form when beaters are lifted. Spread decoratively on pie; garnish with orange slices. Run hot water in the bottom of your sink and carefully dip the bottom of your pie to help loosen. Run a knife under hot water and slice pie in wedges to serve.
Get more recipes and behind-the-scenes news straight from Martha by following her on Twitter @marthas_place.