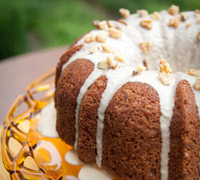 By Martha Thompson, Director of Guest Relations
Nothing says fall quite like the aroma of apples and spices baking in the kitchen. Start watching the farmer's markets and grocery stores for the season's best baking apples to arrive. Here's a delicious apple cake that can be baked ahead of time, and it transports easily. Consider it for tailgating, bake sales and potluck dinners!
Cream Cheese Filling
8-ounce package cream cheese, softened
1/4 cup butter, softened
1/2 cup granulated sugar
1 large egg
2 tablespoons all-purpose flour
1 teaspoon vanilla extract
Cake Batter
1 cup finely chopped pecans
3 cups all-purpose flour
1 cup granulated sugar
1 cup firmly packed light brown sugar
2 teaspoons ground cinnamon
1 teaspoon salt
1 teaspoon baking soda
1 teaspoon ground nutmeg
1/2 teaspoon ground allspice
3 large eggs, lightly beaten
3/4 cup canola oil
3/4 cup applesauce
1 teaspoon vanilla extract
3 cups peeled and finely chopped Gala apples (about 1 1/2 pounds)
Frosting
1/2 cup firmly packed light brown sugar
1/4 cup butter
3 tablespoons milk
1 teaspoon vanilla extract
1 cup powdered sugar
1/2 cup chopped pecans for garnish (optional)
Preparation
1. Preheat oven to 350 F. Grease and lightly flour a 14-cup Bundt pan.
Prepare filling: Beat first 3 ingredients at medium speed with an electric mixer until blended and smooth. Add egg, flour and vanilla; beat just until blended. Set aside.
Prepare batter: Bake pecans in a shallow pan 2–3 minutes until fragrant. Set aside. Stir together flour and next 7 ingredients in a large bowl; stir in eggs and next 3 ingredients, stirring just until dry ingredients are moistened. Stir in apples and pecans.
Spoon two-thirds of apple mixture into Bundt pan. Spoon cream cheese filling over apple mixture, leaving a 1-inch border around edges of pan. Swirl filling through apple mixture using a knife. Spoon remaining apple mixture over cream cheese filling.
Bake for 1 hour to 1 hour and 15 minutes or until a long wooden pick inserted in center comes out clean. Cool cake in pan on a wire rack 15 minutes; remove from pan to wire rack and cool completely (about 2 hours).
Prepare frosting: Bring brown sugar, butter and milk to a boil in a 2-quart saucepan over medium heat, whisking constantly; boil 1 minute, whisking constantly. Remove from heat; stir in vanilla. Gradually whisk in powdered sugar until smooth; stir gently 3 to 5 minutes or until mixture begins to cool and thickens slightly. Pour frosting immediately over cooled cake, letting it drizzle down the side. Garnish with chopped pecans.
Happy fall, y'all!
More fabulous fall desserts from Martha: