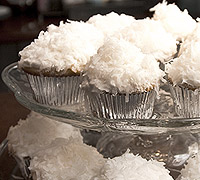 By Martha Thompson, Director of Guest Relations
In the pageant of desserts, coconut takes the crown in my book. I am a huge fan of coconut in all its forms, and this recipe is definitely one of my favorites. Because these delicious cupcakes have a strong resemblance to snowballs, I love making them during the winter months. When I'm ready to serve, I display them on a three-tiered cake stand like a pile of snowballs. I hope you enjoy this surprisingly light and billowy cupcake! Each bite is loaded with sweet and creamy coconut flavor. Enjoy!
Ingredients
Cupcakes
2 1/2 cups cake flour (no substitutions)
1 teaspoon baking powder
1/2 teaspoon baking soda
1 teaspoon salt
2 1/2 sticks unsalted butter, softened at room temperature
2 cups sugar
5 large eggs at room temperature
1 1/2 teaspoons vanilla extract
1 teaspoon coconut extract
2/3 cup buttermilk
Silver cupcake liners
Seven-Minute Icing
1 1/2 cups sugar
1/4 teaspoon cream of tartar
1/8 teaspoon salt
1/3 cup water
2 egg whites at room temperature
1 1/2 teaspoons pure vanilla extract
1 bag of sweetened coconut flakes (Martha prefers Baker's brand)
Directions
Cupcakes
Preheat oven to 350 degrees. Line two standard 12-cup muffin tins with silver cupcake liners.
Whisk together flour, baking powder, baking soda and salt in large bowl; set aside.
Using a mixer, cream butter and sugar together for approximately four minutes until light and fluffy. Add eggs one at a time until just combined. Add vanilla and coconut extract. Alternate adding buttermilk and dry ingredients, being careful not to overmix.
Fill cupcake liners 2/3 full with batter. Bake for 15 to 18 minutes or until golden brown and toothpick comes out clean. Let cupcakes cool in pan for a couple of minutes, then move to wire rack to cool completely.
Icing
Separate egg whites and discard yolks. Bring egg whites to room temperature. Place sugar, cream of tartar, salt, water and egg whites in the top of a double boiler on countertop. Beat with a handheld electric mixer for one minute. Place top pan with egg white mixture over bottom of your double boiler filled with boiling water on stovetop. Make sure that boiling water does not touch the bottom of your top pan. (If this happens, it could cause your frosting to become grainy.) Beat icing constantly on high speed with electric mixer for seven minutes. Stiff peaks will form. Beat in vanilla.
Generously top cooled cupcakes with soft peaks of icing. Sprinkle each cupcake generously with coconut flakes to form your snowballs.
(Cupcakes can be made a day in advance and stored in airtight container. Icing is better made within hours of serving.)
*This is not Martha's original recipe. She has been making these for years, but doesn't know where the recipe originated.
Get more recipes and behind-the-scenes news straight from Martha by following her on Twitter @marthas_place.