By Martha Thompson, Director of Guest Relations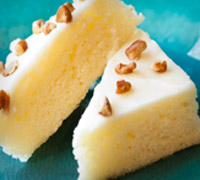 Spring has sprung, and it's time to bring your taste buds out of hibernation. Warmer weather and longer days bring renewed energy for entertaining and gathering with friends and family. Perhaps you are planning to host a wedding shower or graduation party, or you are just looking for an exceptional dessert to take to an event. Whether you are a seasoned cook or relatively new to the kitchen, this light Almond Butter Cream Cake is easy to make and sure to be a big hit with your friends and family.
Cake
2 cups all-purpose flour
2 cups sugar
1 teaspoon baking powder
1 teaspoon salt
1 cup butter
1 cup water
1/2 cup sour cream
2 large eggs, lightly beaten
1 teaspoon almond extract
Preheat oven to 350 degrees. Spray a 15 x 10-inch jelly roll pan with nonstick baking spray with flour.
In a large bowl, combine flour, sugar, baking powder and salt; set aside.
In a small saucepan, combine butter and water; bring to a boil, stirring occasionally. Remove from heat immediately once mixture boils.
Add butter mixture to flour mixture, stirring to combine. Stir in sour cream, eggs and almond extract. Pour into prepared pan and bake for 22 to 25 minutes, or until a wooden pick inserted in center comes out clean. While cake is baking, whip up your frosting. It's important to have it ready to spread while your cake is warm.
Frosting
1/2 cup butter
1/4 cup whole milk
1/2 teaspoon almond extract
3 cups confectioners' sugar
In a medium saucepan, combine butter and milk. Bring to a boil over medium heat, stirring occasionally. Remove from heat. Whisk in almond extract. Gradually whisk in confectioners' sugar until smooth.
Spread warm cake with buttercream frosting so it will set up as a glaze. Sprinkle with chopped pecans if desired.
Get more recipes and goodies by following Martha on Twitter @Marthas_Place.