By Martha Thompson, Director of Guest Relations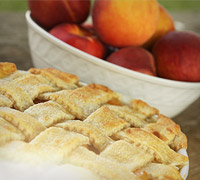 Ripe peaches bursting with juice and plump blackberries waiting to be plucked—these are some of the simple pleasures of late summer. I love to bake fruit desserts all throughout the year, but peach and blackberry cobblers are two of my favorites and are best in the late summer when the peaches and berries are at their peak.
Cobblers are a deep-dish fruit dessert, very popular in the South. Some versions are topped with pie crust, while others have a drop-biscuit or crumb topping. They are all simple to make and rely more on taste than fancy pastry preparation.
With summer speeding quickly to an end, I wanted to share a couple of my favorite cobbler recipes to help you take advantage of the waning weeks of fresh peach and blackberry season. Trust me—both of these recipes are well worth the calorie splurge!
Fresh Peach Cobbler
In late July, I begin watching for fresh picked peaches to arrive at my local grocery store and the farmer's market. Growing up in the South, peaches were a summer staple with our family. They are grown in Georgia, South Carolina, and Alabama—all states where you will find reigning Peach Queens, hundreds of roadside peach stands, and even water towers painted like giant peaches!
Regardless of where your peaches are grown, when picking your fruit choose fragrant, unblemished peaches that have a beautiful rosy blush. Because fresh peaches are highly perishable, don't buy more than you plan to use right away. Peaches will keep in the refrigerator for up to 5 days. Only refrigerate them when they are ripe, as the fridge will halt ripening. If your peaches still need to ripen, place them on the counter in a paper bag for a couple of days.
Ingredients for crust:
2 1/2 cups all-purpose flour
3 tablespoons white sugar
1 teaspoon salt
1 cup shortening
1 egg
1/4 cup cold water
Ingredients for filling:
3–4 pounds fresh peaches - peeled, pitted and sliced
1/4 cup lemon juice
3/4 cup orange juice
1/2 cup of butter
2 cups sugar
1/2 teaspoon ground nutmeg
1 teaspoon ground cinnamon
1 tablespoon cornstarch
1 tablespoon sugar
1 tablespoon butter, melted
Preheat oven to 350 degrees.
Sift together flour, sugar and salt in a bowl. Work in the shortening with a pastry cutter until the mixture resembles coarse crumbs. In a small bowl, whisk together egg and cold water. Sprinkle egg mixture over flour mixture and work with hands to form a ball of dough. Divide dough into 2 parts and cover with plastic wrap. Chill at least 30 minutes.
Roll chilled dough (1/8 inch thickness) to fit in a 9 x 13-inch baking dish, covering the bottom and halfway up the sides of your dish. Bake for 20 minutes, or until the bottom crust is golden brown and flaky. Set aside.
Mix sliced peaches, lemon juice and orange juice in a saucepan. Add 1/2 cup of butter and cook over medium-low heat until butter melts.
Stir together 2 cups sugar, cinnamon, nutmeg and cornstarch in a mixing bowl. Once blended, slowly mix into the peach mixture. Mix thoroughly and pour into the baked bottom crust.
Roll remaining dough out and cut into strips, using a fluted pastry wheel or serrated knife for design. Weave crust in a lattice design over peaches and brush with melted butter followed by sprinkled sugar.
Bake in preheated 350-degree oven for 40 minutes or until the top crust is flaky and golden brown. Serve warm, at room temperature or cold with whipped cream or vanilla ice cream (optional).
Easy Blackberry Cobbler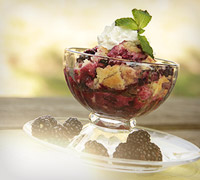 For those of you who would like a quick and simple recipe, in less than an hour you can serve up this easy fresh blackberry cobbler.
Part of my love for baking comes from fond memories of visiting my grandmother during the summer in southern Alabama. Even though the bushes scratched our arms and the juicy blackberries stained our hands, we thought it was such a treat to go blackberry picking and eat them right off the bush! But, my best memories were of the wonderful cobblers, jams and numerous other desserts that Grandma made from scratch using our bowls of fresh-picked blackberries.
When choosing your blackberries, select firm, shiny berries. Sort berries before you store in the fridge and remove any that are bruised or bad. Do not wash blackberries until you are ready to use them. Moisture will hasten the decay of your berries. Blackberries perish quickly, so use fresh-picked or store-bought blackberries as soon as possible.
Ingredients:
4–5 cups of fresh blackberries
1 tablespoon lemon juice
1 large egg
1 cup sugar
1 cup all-purpose flour
6 tablespoons melted butter
Preheat oven to 375 degrees.
Place blackberries in a lightly greased 8 x 8-inch square baking dish; sprinkle with lemon juice.
Stir together egg, sugar and flour in a medium bowl until mixture resembles coarse meal.
Sprinkle over fruit.
Drizzle melted butter over topping.
Bake at 375 degrees for 35 minutes or until golden brown and bubbly.
Let stand 10 minutes.
Serve warm with whipped cream or a scoop of vanilla ice cream, if desired. Makes 6 servings.
Get more recipes and goodies by following Martha on Twitter @Marthas_Place.