By Martha Thompson, Director of Guest Relations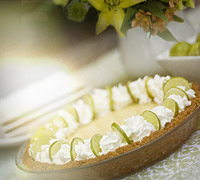 My husband's favorite dessert is Key lime pie. Since Key limes are shipped in to our grocery stores from May until August, I try to make it for him on Father's Day and other special occasions throughout the summer.
The Key lime gets its name from its association with the Florida Keys. Key lime pie is always made with small, round Key limes (which are the size of golf balls) and never with the large Persian limes found year round in grocery stores. If fresh Key limes are not available in your area and you would like to try this recipe, look for bottled Key lime juice as a substitution.
Don't even think about substituting a ready-made graham cracker crust for this recipe! This crust is delicious, easy to make, and adds just the right amount of sweetness to complement the tartness of your pie filling. The topping for your Key lime pie is optional. I've made my pies with both whipped cream and with meringue. Since whipped topping is the easiest, that's what I've included with this recipe.
For a taste of summer, there's just nothing like the sweet tartness of a slice of homemade Key lime pie!
*This is not Martha's original recipe. She has been making this for years, but doesn't know where the recipe originated.
Crust
1 1/4 cups of graham cracker crumbs (Place 1 package of graham crackers in a large zip-lock bag and crush with a rolling pin. Measure to make sure you have exactly 1 1/4 cups.)
1/4 cup firmly packed light brown sugar
1/3 cup butter, melted
Crush and then measure your graham crackers. Place 1 1/4 cups of crumbs in bowl and mix in brown sugar and butter until crumbs are evenly moist. Spray 9-inch pie plate with baking spray and press crumbs evenly in bottom and up the sides of your pie plate. Set aside.
Filling
1 (14-oz.) can sweetened condensed milk
3 egg yolks
2 teaspoons Key lime zest (Use a zester or cheese grater to scrape the outer, bright colored skin of your lime. This should be done before slicing your limes to squeeze your juice.)
1/2 cup Key lime juice (if fresh squeezed, pour through strainer to remove seeds)
Preheat oven to 350 degrees. Whisk together condensed milk, egg yolks, zest, and Key lime juice until well blended. Pour mixture into prepared pie crust. Bake at 350 degrees for 15 minutes for pie to set. Cool completely on a wire rack (about 1 hour). Chill in refrigerator at least 1 hour before serving.
Topping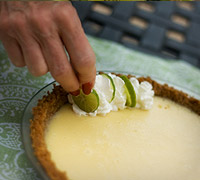 You can use ready-made whipped topping, but I love the sweet taste of homemade whipped cream.
2 cups chilled whipping cream
6 tablespoons powdered sugar
Garnish: fresh Key lime slices
Beat whipping cream in a chilled bowl at high speed with an electric mixer 2 to 3 minutes or until soft peaks form, gradually adding powdered sugar. Top chilled pie with whipped cream when you are ready to serve. Garnish with thin slices of Key limes, if desired.
Get more recipes and goodies by following Martha on Twitter @Marthas_Place.