By Martha Thompson, Director of Guest Relations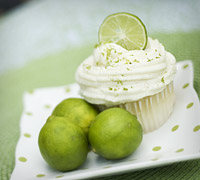 Why not take your love for Key lime pie one step further and try these Key lime cupcakes?
I'm always asked to share quick and easy recipes for the novice bakers. Here's a fun summer recipe that starts with a basic vanilla cake mix. The Key lime butter cream frosting is what adds the delicious, homemade touch to these delicious cupcakes. Be sure to use the small, round Key limes (which are the size of golf balls) when making these cupcakes. Never use the large Persian limes found year round in grocery stores. If fresh Key limes are not available in your area, look for bottled Key lime juice as a substitution. It will be found near the bottled lemon juice in your grocery store.
Cupcakes
1 box of vanilla cake mix (I prefer a French vanilla version)
3 teaspoons Key lime zest
Preheat your oven to 350 degrees and line two muffin pans with 24 paper cup cake liners.
Use a zester or cheese grater and scrap the outer, colorful skin of your limes before slicing and squeezing.
Follow directions for the cake mix, then add 3 teaspoons lime zest to the batter.
Fill each cup evenly (about 2/3 full)
Bake for approximately 18 minutes and insert toothpick to test for doneness. If it comes out wet, bake an additional 1 minute at a time, checking until the toothpick comes out clean. Cool completely before frosting.
Key Lime Butter Cream Frosting
1 cup (2 sticks) butter, softened to room temperature – no substitutions
3 teaspoons Key lime zest
2 teaspoons vanilla extract
1/4 teaspoon salt
2 (16-oz.) packages powdered sugar
6 tablespoons Key lime juice (if fresh squeezed, strain to remove seeds)
3–4 tablespoons milk
Beat softened butter, lime zest, vanilla, and salt together at medium speed with an electric mixer until creamy.
Gradually add powdered sugar alternately with Key lime juice, 1 tablespoon at a time, and 1 tablespoon milk, beating at low speed until blended and smooth after each addition.
Frost cooled cupcakes, and garnish with lime slices and lime zest, if desired.
Like this? You'll love Martha's sweet and tart Key Lime Pie.
Get more recipes and goodies by following Martha on Twitter @Marthas_Place.